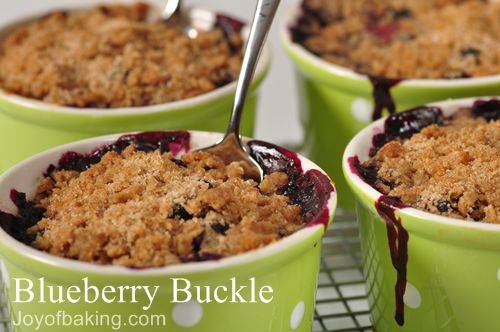 Aaah, Blueberry Buckle. Summer would not be the same without this old fashioned homey dessert. Who can resist soft and sweet blueberries sandwiched between a crunchy streusel and a buttery white cake? Growing up my mother would make blueberry buckle (recipe here) every summer with the blueberries we would pick during camping trips. She always made it in a square baking pan, cutting the buckle into small squares. Over the years I followed her lead and never thought to make it any other way. That was until I saw individual servings of blueberry buckle in Oprah's cookbook "The Oprah Magazine Cookbook". What a great idea. Everyone gets their own individual ramekin. Of course, blueberry buckle is absolutely delicious warm from the oven with a scoop of vanilla ice cream or softly whipped cream. However, if there are any leftovers, just refrigerate them and you might like to try eating the buckle cold when the streusel has turned wonderfully hard and crunchy. If blueberries are out of season you can also make a buckle with other berries, like raspberries and blackberries.
Have you ever wondered why this dessert is called a Buckle? I have, so I decided to look up "buckle" in the dictionary. The first definition given was for the clasp on your belt. No help there. But upon further reading, 'buckle' was also defined as "to bend, warp, bulge, or collapse" which, when you think about it, is exactly what happens to a blueberry buckle as it bakes. That is because, during baking, the baking powder in the cake causes the buckle to rise. But with all those blueberries and streusel on top of the cake batter, the cake rises unevenly, thereby giving it that 'buckled' look.
Blueberries are native to North America which means if you live in the right place you may be able to pick your own. For the rest of us there are cultivated berries which are much larger in size and lighter in color. Both types are wonderfully sweet with just a touch of tartness. If taste isn't enough to get you to eat these berries, their health benefits will; rich in antioxidants, high in fiber, high in potassium, and low in sodium. When buying blueberries, look for firm, plump, fragrant, dark blue berries with a dusty white bloom. The white bloom is the blueberry's natural protection against the sun and is a sign of freshness. Always check the underside of the container for any wet spots or staining. Discard any soft, moldy, or crushed berries.