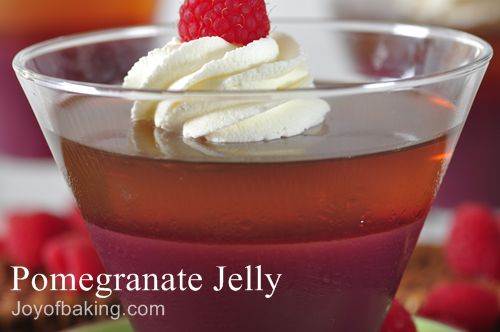 Pomegranate Jelly is a beautiful two layered dessert that pairs a translucent, gold colored apple jelly with a shimmering, garnet colored pomegranate jelly. One spoonful will tell you this is not the wobbly children's dessert made by stirring a fruit flavored powder into water. This jelly uses real pomegranate juice and real apple juice so it captures the true essence of these fruits. It is especially nice when you scatter the tops with fresh pomegranate seeds.
I did not realize how delicious jelly could taste until I adapted this recipe from Tessa Kiros' lovely book Apples for Jam. I was also surprised at how quick and easy it is to make. All you do is stir unflavored gelatin into real fruit juice. But before we begin the recipe I will tell you that I have used POM's Pomegranate Juice (sometimes I use Pom's Pomegranate Blueberry Juice) and Martinelli's Apple Juice as I like how both contain 100% real juice. These juices are unsweetened so you can adjust the amount of sugar added. If you are using sweetened fruit juices, then leave out the sugar that is called for in the recipe. Also, I like to use the unflavored gelatin that comes in powdered form, which is sold in the baking section of most grocery stores. It comes in small boxes which hold four - 1/4 ounce (7 grams) (scant tablespoon) paper envelopes of tiny granules of powdered gelatin. These granules are tasteless, colorless, and odorless and in order for them to become a thickening agent, the pomegranate juice and the apple juice need to be hot. So we start the recipe by sprinkling three teaspoons of the unflavored gelatin over one third cup (80 ml) of cold water and then leave it, untouched, for about five to ten minutes so the gelatin has time to soften and become all swelled and spongy. Meanwhile we heat the lightly sweetened pomegranate juice until very hot, but not boiling. The softened gelatin is then stirred into the hot pomegranate juice and placed back over low heat until the gelatin has completely dissolved (stir constantly). (To check to see if the gelatin has completely dissolved, dip a spoon into the gelatin and check to see that all the crystals have melted.) The jelly is then removed from the heat, left to cool slightly, poured into six serving glasses, and refrigerated for two to four hours or until set. The process is repeated for the apple jelly. You can make this jelly up to a day before serving. It is especially good with softly whipped cream or vanilla ice cream.
Note: While this recipe uses powdered unflavored gelatin, you can also use the clear, paper-thin leaves (or sheets) of unflavored gelatin. It is widely used in Europe and can oftentimes be found in gourmet and specialty baking stores, or through mail order. To use this type of gelatin, you have to first soak the sheets in cold water until they look like wet plastic wrap. The sheets are then heated until liquefied. One sheet of gelatin will usually gel about 1 cup (240 ml) of liquid.