Blackberry Tart Recipe
Sweet Pastry Crust: In a separate bowl, sift or whisk together the flour and salt. Place the butter in your mixer and beat until softened. Add the sugar and beat until light and fluffy. Gradually add the beaten egg, beating just until incorporated. Add flour mixture all at once and mix just until it forms a ball. Flatten dough into disk, cover with plastic wrap, and refrigerate about one hour or until firm.
Have ready an 8 or 9 inch (20 - 23 cm) tart pan with removable bottom. On a lightly floured surface, roll out the pastry into an 11 inch (28 cm) circle. To prevent the pastry from sticking to the counter, keep lifting up and turning the pastry a quarter turn as you roll. To make sure it is the right size, take your tart pan, flip it over, and place it on the rolled out pastry. The pastry should be about an inch larger than pan. When the pastry is the desired size, lightly roll pastry around your rolling pin, dusting off any excess flourl. Unroll onto top of tart pan. Never pull pastry or you will get shrinkage. Gently lay in pan and lightly press pastry onto bottom and up sides of pan. Roll your rolling pin over top of pan to get rid of excess pastry. Prick bottom of dough (to prevent the dough from puffing up as it bakes). Cover and freeze for about 20 minutes.
Meanwhile, preheat oven to 375 degrees F (190 degrees C) and place rack in center of oven. Line unbaked pastry shell with parchment paper or aluminum foil. Fill tart pan with pie weights, rice or beans, making sure the weights are to the top of the pan. Bake crust for 20 minutes or until crust is dry and lightly golden brown. Remove weights and continue to bake for about 5 - 10 minutes or until the crust is cooked through. Remove from oven and completely cool the crust on a wire rack before filling.
Cream Filling: In the bowl of your electric mixer (or with a hand mixer or wire whisk) beat the mascarpone cheese, heavy whipping cream, sugar and vanilla extract just until soft peaks form.
To Assemble Tart: Spread the cream onto the tart, smoothing it out with the back of a spoon or with an offset spatula. Scatter the blackberries on top of the cream. In a small saucepan, warm the jam. Strain to remove any large lumps of fruit, and then gently brush or spoon the jam over the berries. This step will keep the berries from drying out and also makes them nice and shiny. If not serving immediately, refrigerate. Take out about 30 minutes before serving to give the fruit and cream a chance to warm to room temperature. Serves about 6 - 8 people.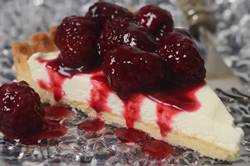 Sweet Pastry Crust:
1 1/2 cups (195 grams) all purpose flour
1/8 teaspoon salt
1/2 cup (113 grams) unsalted butter
1/4 cup (50 grams) granulated white sugar
1 large egg, lightly beaten
Cream Filling:
1/2 cup (4 ounces) mascarpone cheese (or cream cheese)
1/2 cup (120 ml) heavy whipping cream
1 tablespoon (14 grams) granulated white sugar
1/2 teaspoon pure vanilla extract
Topping:
1 - 2 cups fresh blackberries or other berries
1/4 cup (60 ml) blackberry or raspberry jam