Bourbon Balls: To toast nuts: Preheat oven to 350 degrees F (180 degrees C). Place the pecans on a baking sheet and bake for about 6-8 minutes, or until lightly browned and fragrant. Let cool completely.
Process the pecans and vanilla wafer cookies in your food processor until finely chopped. To this mixture add the confectioners sugar and cocoa powder and process until combined. Add the corn syrup and bourbon and mix well. Add more bourbon if necessary. Chill the batter for about 15-30 minutes and then shape into 1 inch (2.5 cm) balls.
Roll the bourbon balls in confectioners sugar, finely chopped nuts, or cocoa powder. If dipping in chocolate, put about 3 ounces (90 grams) of chopped dark chocolate and 1 teaspoon (5 grams) of shortening or butter in a heatproof bowl placed over a saucepan of simmering water. Once melted, remove from heat and dip the balls, one at a time, in the melted chocolate, making sure the entire ball is coated with chocolate. Then, with two spoons or a dipping fork, remove the bourbon balls from the melted chocolate, allowing any excess chocolate to drip back into the bowl. Place the chocolate covered balls on a baking sheet. When all the balls have been dipped in the chocolate, place in the refrigerator until the chocolate has set. Once the chocolate has hardened you can drizzle the bourbon balls with 1 ounce (30 grams) melted white chocolate.
Can be stored in an airtight container in the refrigerator for about two weeks. Serve at room temperature.
Makes about 30 Bourbon Balls.

Scan for Demonstration Video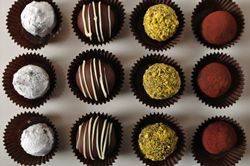 Bourbon Balls:
1 cup (100 grams) pecans or walnuts
2 cups (200 grams) vanilla wafer cookies, finely crushed
1/2 cup (55 grams) confectioners sugar (powdered or icing)
2 tablespoons (15 grams) cocoa powder (can used Dutch processed or regular unsweetened cocoa powder)
1 1/2 tablespoons (30 grams) light or dark corn syrup, golden syrup or liquid glucose syrup
1/4 cup (60 ml) bourbon
Toppings:
Confectioners (powdered or icing) Sugar
Finely chopped nuts (pecans, walnuts, hazelnuts, almonds or pistachios)
Unsweetened Cocoa Powder
Melted Chocolate (Dark or White)