Chocolate Genoise Recipe
Preheat oven to 350 degrees F (180 degrees C). Butter, or spray with a non stick spray, a 9 inch (23 cm) round cake pan and line the bottom of the pan with parchment paper.
Sift the flour with the salt and cocoa powder. In a heatproof bowl whisk together the eggs and sugar. Place the bowl over a saucepan of simmering water. Whisking constantly, heat the eggs and sugar until lukewarm to the touch (this will take about 5 minutes). Remove from heat and transfer the mixture to the bowl of your electric mixer. Beat on high speed (about 3-5 minutes) until the egg mixture has cooled, tripled in volume, and looks like softly whipped cream (the batter will fall back into the bowl in a ribbon-like pattern). Beat in the vanilla extract. Then sift about one-third of the flour mixture over the whipped eggs and gently fold in using a large rubber spatula or whisk. Fold in half of the remaining flour, and then fold in the rest. (Do not over mix or the batter will deflate). Take about 1 cup of the batter and fold it into the hot butter mixture. (This lightens the butter mixture.) Then, with a spatula, gently fold the butter mixture completely into the egg batter. Pour into your prepared pan, smoothing the top. Bake until the cake shrinks slightly from the edges of the pan and the top springs back when lightly pressed (about 20 - 25 minutes). (A toothpick inserted into the center of the cake comes out clean.) Cool on a metal rack. When the cake has cooled completely, run a small knife around the edges to release the cake. The genoise will keep two days in the refrigerator or it can be frozen for a couple of months.
Chocolate Filling: In a heatproof bowl set over a saucepan of simmering water, melt the chocolate. Remove from heat and let cool to room temperature. In the chilled bowl of your electric mixer (or with a hand mixer), whip the heavy cream with the sugar and vanilla extract until soft peaks form. Then whisk or fold about one quarter of the whipped cream into the melted chocolate. (Do this quickly so the chocolate does not seize (become grainy).) Then gently fold or whisk the rest of the whipped cream (in three stages) into the chocolate.
Cut the genoise in half. Place the top layer, cut side up, onto your serving plate. In a cup mix the orange juice with the Grand Marnier then, using a pastry brush, brush the cake with half the syrup. Next, evenly spread the chocolate mousse over the cake. Brush the cut side of the second layer of genoise with the soaking syrup. Then place the layer, cut side down, on top of the filling. Cover and refrigerate a few hours (or overnight). To serve, dust with powdered sugar. Serves 10 people.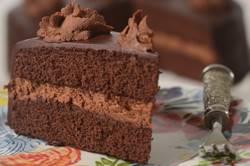 Chocolate Genoise Recipe:
3 tablespoons (42 grams) hot melted unsalted butter
1/2 cup (65 grams) cake flour
1/4 teaspoon salt
1/3 cup (30 grams) unsweetened regular or Dutch-processed cocoa powder
4 large eggs
2/3 cup (135 grams) granulated white sugar
1 teaspoon pure vanilla extract
Orange Flavored Soaking Syrup:
1/4 cup (60 ml) orange juice
1 tablespoon Grand Marnier (optional)
Chocolate Filling:
5 ounces (150 grams) semisweet chocolate, coarsely chopped
1 cup (240 ml) heavy whipping cream (double cream) (35-40% butterfat)
1 tablespoon (15 grams) granulated white sugar
1/2 teaspoon pure vanilla extract