Chocolate Peanut Squares: Butter or lightly spray with a non stick vegetable spray, an 8 x 8 inch (20 x 20 cm) square pan. Set aside.
Place the peanut butter, corn syrup, honey, cocoa powder, and light brown sugar in a large saucepan. Place over medium high heat and bring this mixture to a boil. Reduce the heat to low, add the marshmallows, and stir constantly until mixture is melted and smooth.
Remove from heat and stir in the vanilla extract, rice cereal, and peanuts. Press this mixture into the prepared pan and allow to set.
Topping: In a heatproof bowl over a saucepan of simmering water, melt the chocolate and butter. Spread over the squares and refrigerate until chocolate has set. Cut into squares with a sharp knife.
Serve cold or at room temperature.
Makes about 24 squares.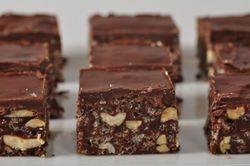 Chocolate Peanut Squares
1/2 cup (120 grams) smooth peanut butter
1/3 cup (80 ml) light corn syrup
1/3 cup (80 ml) honey
1/2 cup (45 grams) cocoa powder, unsweetened or Dutch-processed
1/4 cup (55 grams) light brown sugar
3 cups (180 grams) miniature marshmallows
1 teaspoon pure vanilla extract
3 cups (80 grams) crisp rice cereal
1 cup (120 grams) peanuts
Topping:
8 ounces (230 grams) semi sweet chocolate, chopped
1 tablespoon (14 grams) butter