Cranberry Bread: Butter, or spray with a nonstick vegetable spray, a 9 x 5 x 3 inch (23 x 13 x 8 cm) loaf pan. Preheat oven to 350 degrees F (180 degrees C). (Note: if you are using a dark colored pan reduce the oven temperature to 325 degrees F (160 degrees C).)
In a large bowl whisk together the sifted flour, sugar, baking powder, salt, and orange zest. In a separate bowl whisk together the beaten egg, melted butter, vanilla extract and milk. Stir the wet ingredients into the dry ingredients. Mix in the fruit and nuts. Pour into the prepared pan and bake for about 70 minutes or until a toothpick inserted into the center of the cake comes out clean. Remove from oven and let cool on a wire rack. Wrap in aluminum foil and store for a few days before serving. It can be frozen.
Makes one - 9x5 inch loaf
The best way to enjoy this bread is to spread a little butter on each slice.
Note: To toast almonds, spread on a baking sheet and place in a 350 degree F (180 degree C) oven for 5-10 minutes until lightly brown. Watch carefully as they can burn easily. Cool before using.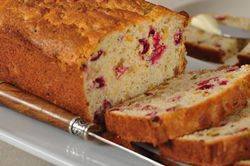 4 cups (460 grams) sifted all-purpose flour
1 cup (200 grams) white granulated sugar
4 teaspoons baking powder
1 teaspoon salt
Zest of one orange or lemon (optional)
1 large egg, lightly beaten
1/4 cup (4 tablespoons) (56 grams) unsalted butter, melted and cooled
1 teaspoon pure vanilla extract
1 1/2 cups (360 ml) milk
1 cup (120 grams) fresh cranberries, coarsely chopped
1/2 cup (90 grams) candied and chopped mixed peel
1/2 cup (60 grams) toasted almonds, coarsely chopped (can use walnuts, hazelnuts or pecans)