Cranberry Pear and Apple Crumble Recipe
Preheat oven to 375 degrees F (190 degrees C) and place rack in the center of the oven. Butter or spray with a nonstick cooking spray, a 2 1/2 quart (2.75 liter) casserole or oval gratin dish, or a 10 inch (25 cm) deep dish pie plate.
For Crumble Topping: Place all the topping ingredients (flour, sugar, cinnamon, salt, oats, nuts, and butter) in a food processor and process just until the mixture has clumps the size of peas. (This can also be done in a large bowl with a pastry blender, two knives or your fingertips.)
For Filling: In a large bowl combine the sugar and cornstarch (corn flour). Peel, core, and slice the apples and pears and toss them, along with the cranberries, in the sugar mixture. Once thoroughly combined transfer to the prepared baking dish. Spread the topping evenly over the fruit.
Bake for approximately 35-45 minutes or until bubbly and the topping is golden brown and crisp. Remove from oven and place on a wire rack to cool for at least 15 minutes before serving. Serve with softly whipped cream or vanilla ice cream. Refrigerate leftovers and reheat before serving.
Makes about 6 servings.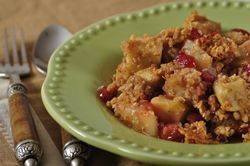 Crumble Topping:
3/4 cup (95 grams) all purpose flour
3/4 cup (155 grams) light brown sugar
1/2 teaspoon ground cinnamon
1/4 teaspoon salt
3/4 cup (70 grams) old-fashioned rolled oats
1/3 cup (40 grams) chopped walnuts or pecans
1/2 cup (113 grams) cold unsalted butter, cut into pieces
Filling:
2-3 tablespoons (30-45 grams) light brown sugar
1/2 tablespoon cornstarch (corn flour)
1 1/2 pounds (680 grams) Granny Smith Apples or other firm apple - peeled, cored, and cut into 1 inch (2.5 cm) chunks
1 1/2 pounds (680 grams) ripe Bartlett or Anjou Pears, peeled, cored and cut into 1 inch (2.5 cm) chunks
1/2 cup (50 grams) dried cranberries (or fresh cranberries that have been, rinsed, drained, and picked over)