Hermit Cookies Recipe
Hermit Cookies: Preheat oven to 350 degrees F (177 degrees C) and place rack in center of oven. Line two baking sheets with parchment paper.
In the bowl of your electric mixer, or with a hand mixer, beat the butter and sugar until light and fluffy. Add the eggs, one at a time, beating well after each addition. Beat in the vanilla extract. Scrape down the sides of the bowl as needed.
In a separate bowl sift or whisk together the flour, baking soda, salt, and spices. Add to the butter and egg mixture and beat until combined. Fold in the raisins, chopped dates, and chopped pecans.
Drop the batter by tablespoonfuls onto the prepared baking sheets, spacing the cookies about two inches (5 cm) apart. Bake for about 10 minutes or until the cookies or until lightly browned. Remove from oven and place on a wire rack for about 5 minutes before removing from pan. Cool completely before frosting.
Glaze (optional): In a small bowl stir together the sugar, vanilla extract, and enough milk (cream) to make a smooth, thick, yet pourable glaze. Once the cookies are completely cool, use a small spoon to drizzle several thin lines of the glaze over each cookie. Let the cookies sit at room temperature until the glaze has completely dried.
The cookies can be stored at room temperature for about five days.
Makes about 36 cookies.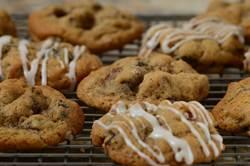 Hermit Cookies:
1/2 cup (113 grams) unsalted butter, room temperature
1 cup (200 grams) light brown sugar
2 large eggs
1/2 teaspoon pure vanilla extract
1 1/2 cups (195 grams) all purpose flour
1 teaspoon baking soda
1/4 teaspoon salt
1 teaspoon ground cinnamon
1/2 teaspoon ground allspice
1/4 teaspoon ground cloves
1 cup (130 grams) dark or golden raisins
1 cup (135 grams) dates, pitted and coarsely chopped
1 cup (100 grams) pecans or walnuts, coarsely chopped
Glaze: (optional)
1/2 cup (55 grams) confectioners sugar (icing or powdered sugar), sifted
1/4 teaspoon pure vanilla extract
2 - 3 tablespoons milk or light cream