Chocolate Pavlova: Preheat oven to 250 degrees F (130 degrees C) and place rack in center of oven. Line a baking sheet with parchment paper and draw a 8 inch (20 cm) circle on the parchment paper.
In the bowl of your electric mixer, with the whisk attachment, beat the egg whites until foamy. Add the cream of tartar and continue to beat on medium-high speed until they hold soft peaks. Start adding the sugar, a tablespoon at a time, and continue to beat until the meringue holds stiff peaks. (Test to see if the sugar is fully dissolved by rubbing a little of the meringue between your thumb and index finger. The meringue should feel smooth, not gritty. If it feels gritty the sugar has not fully dissolved so keep beating until it feels smooth between your fingers). Using a large rubber spatula, fold in the vinegar and vanilla extract. In a small strainer, sift the cocoa powder and cornstarch over the top of the meringue and, with the rubber spatula, fold in. Lastly, fold in the chopped chocolate.
Gently spread the meringue inside the circle drawn on the parchment paper, smoothing the edges.
Bake for about 1 1/4 - 1 1/2 hours or until the outside is dry. (The outside of the meringues will feel firm to the touch, if gently pressed. There will be cracks and you will see that the inside is soft and moist.) Turn the oven off, leave the door slightly ajar, and let the meringue cool completely in the oven.
The cooled meringue can be made and stored in a cool dry place, in an airtight container, for a few days.
Just before serving gently place the meringue on a serving plate. Whip the cream in your electric mixer, with the whisk attachment, until soft peaks form. Sweeten with the sugar and then mound the softly whipped cream into the center of the meringue. Arrange the fruit on top of the cream. Serve immediately as this dessert does not hold and once you add the cream and fruit the meringue will start to break down.
Makes 8 servings.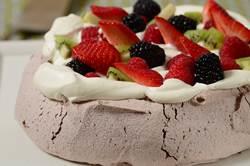 Chocolate Pavlova:
6 large (180 grams) egg whites, room temperature
1/4 teaspoon cream of tartar
1 1/4 cups (250 grams) superfine (castor) sugar
1 teaspoon white vinegar
1 teaspoon pure vanilla extract
1 teaspoon cornstarch (corn flour)
3 tablespoons (20 grams) Dutch processed cocoa powder
2 ounces (55 grams) semi-sweet or bittersweet chocolate, chopped
Topping:
1 cup (240 ml) heavy whipping cream
1 tablespoon (14 grams) granulated white sugar
Fresh Fruit - raspberries, blackberries, strawberries, and kiwi fruit are some good choices
Note: To make superfine sugar, place 1 1/4 cups (250 grams) of white granulated sugar in your food processor and process for about one minute or until finely ground.