Raisin Cookies Recipe
Raisin Cookies: Preheat oven to 375 degrees F (190 degrees C) and place the oven rack in the center of the oven. Line two baking sheets with parchment paper.
In the bowl of your electric mixer, beat together the flour, baking powder, salt, and ground cinnamon. Add the brown sugar, softened butter, egg, milk, and vanilla extract and beat for one minute. Add the raisins and beat until incorporated.
Drop the batter by heaping teaspoonfuls onto the prepared baking sheet, spacing the cookies a couple of inches apart. Bake the cookies for about 8-10 minutes, or until the tops of the cookies are just barely touched with color yet the edges are golden brown. Remove from oven and transfer the cookies to a wire rack to cool.
Makes about 4 dozen cookies.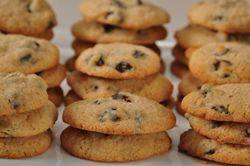 Raisin Cookies:
2 cups (260 grams) all purpose flour
2 teaspoons baking powder
1/4 teaspoon salt
1/2 teaspoon ground cinnamon
1 cup (210 grams) light brown sugar
12 tablespoons (170 grams) unsalted butter, softened
1 large egg
1/4 cup (60 ml) milk
1 teaspoon pure vanilla extract
1 cup (125 grams) dark raisins