Tapioca Pudding Recipe: In a medium sized, heavy bottomed saucepan combine the milk, cream, salt, sugar, tapioca, and beaten egg. Let sit for about 10 minutes. Place the saucepan over medium heat and, stirring slowly but constantly, bring to a full boil. Remove from heat and stir in the vanilla extract.

Let the pudding cool, untouched, in the saucepan for 20 minutes. (The pudding will still be quite thin after this time.) Stir the pudding and then pour it into your serving cups or bowls. Cover with plastic wrap and place in the refrigerator to chill for several hours, or even overnight.

If desired, garnish with lightly sweetened whipped cream and chopped nuts. Can also serve with fruit sauces or jams.

Makes 4 - 6 servings.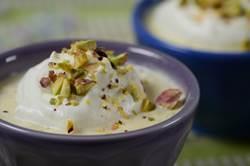 Tapioca Pudding Recipe:
2 cups (480 ml) whole milk
1/2 cup (120 ml) heavy (whipping) cream
1/8 teaspoon salt
1/3 cup (65 gram) granulated white sugar
2 1/2 tablespoons quick-cooking (minute or instant) tapioca
1 large egg, well beaten
1 teaspoon pure vanilla extract
Garnish: (Optional)
Lightly sweetened whipped cream
chopped pistachios or walnuts