Apple Frangipane Tart
Frangipane: In your food processor, place the almonds, sugar, and flour. Process until finely ground. Then add the rest of the ingredients and process until you have a smooth paste. Transfer to a small bowl, cover and refrigerate.
Pie Crust: In a food processor, place the flour, salt, and sugar and process until combined. Add the butter and process until the mixture resembles coarse meal (about 15 seconds). Pour 1/8 cup (30 ml) water in a slow, steady stream through the feed tube until the pastry just holds together when pinched. Add remaining water, if necessary. Turn the pastry out onto your work surface, gather it into a ball, cover with plastic wrap, and refrigerate for about one hour or until firm. Once the pastry has chilled sufficiently, remove from refrigerator and place on a lightly floured surface. Roll the pastry into a 12 inch (30 cm) circle. Transfer to a parchment lined baking sheet. Cover with plastic wrap and place in the refrigerator while you prepare the apples.
Preheat oven to 375 degrees F (190 degrees C) and place the rack in the center of the oven.
Assemble Tart: Remove the chilled pastry from the refrigerator and spread the frangipane evenly over the crust, leaving a 2 inch (5 cm) border. Arrange the apple slices evenly over the frangipane layer (concentrically or free form), again leaving a 2 inch (5 cm) border. Fold the border of pastry up and over the apples (sealing any cracks) and brush the pastry crust with a little cream. Sprinkle about 2 tablespoons (30 grams) of sugar (depending on tartness of the apples) over the crust and apples.
Bake the tart for 50 to 60 minutes or until the apples are tender and the crust is golden brown. (The apples should be soft, but not mushy, when pierced with a knife.) Remove from oven and place on a wire rack to cool. Serve warm or at room temperature with vanilla ice cream or softly whipped cream. Refrigerate any leftovers.
Serves 6 - 8 people.

Scan for Demonstration Video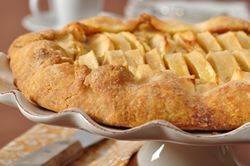 Frangipane (Almond Cream):
1/2 cup (50 grams) chopped blanched or natural almonds (can use almond meal)
1 tablespoon (12 grams) all purpose flour
1/4 cup (50 grams) granulated white sugar
3 tablespoons (40 grams) unsalted butter
1 large egg
1/2 teaspoon pure vanilla extract
1/8 teaspoon salt
Pie Crust:
1 1/4 cups (175 grams) all-purpose flour
1/2 teaspoon salt
1 tablespoon (14 grams) granulated white sugar
1/2 cup (113 grams) cold unsalted butter, cut into small pieces
1/8 to 1/4 cup (30 - 60 ml) ice water
Apples:
6 cups (1.5 liters) apples, peeled, cored, and cut into 1/2 inch (1.25 cm) slices
2-3 tablespoons (30-45 grams) white sugar