Black Bottom Cupcakes
Black Bottom Cupcakes: Preheat your oven to 350 degrees F (180 degrees C) and line 12 muffin cups with paper liners.
Cream Cheese Filling: In your electric stand mixer, fitted with the paddle attachment (or with a hand mixer), beat the cream cheese, on medium low speed, until smooth. Add the sugar, egg, and vanilla extract and beat, on medium low speed, just until creamy and smooth. (Do not over mix.) Set aside while you make the Chocolate Cupcake batter.
Chocolate Cupcakes: In a large bowl, whisk or sift together the flour, sugar, cocoa powder, baking powder, baking soda, and salt. In a separate bowl, mix the water, oil, lemon juice (or vinegar), vanilla extract, and coffee extract (if using). Make a well in the center of the dry ingredients and stir in the wet ingredients until nice and smooth. Evenly divide the batter among the 12 muffin cups. Then spoon two tablespoons (I use an ice cream scoop) of the cream cheese filling into the center of each cupcake.
Bake in the preheated oven for 22 - 25 minutes, or until the cream cheese filling has set and the cupcakes feel springy to the touch (a toothpick inserted into the chocolate part of the cupcake will come out clean). Remove from oven and place on a wire rack to cool. The cupcakes can be covered and stored in the refrigerator for about 3 - 4 days, or they can be frozen.
Makes 12 cupcakes.

Scan for Demonstration Video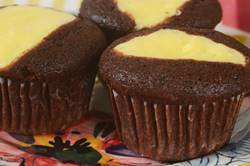 Cream Cheese Filling:
8 ounces (225 grams) cream cheese, at room temperature
1/3 cup (65 grams) granulated white sugar
1 large egg (50 grams), at room temperature
1/2 teaspoon (2 grams) pure vanilla extract
Chocolate Cupcakes:
1 1/2 cups (195 grams) all purpose flour
1 cup (200 grams) granulated white sugar
1/4 cup (25 grams) unsweetened cocoa powder (regular unsweetened or Dutch processed)
1 teaspoon (4 grams) baking powder
1/2 teaspoon (2 grams) baking soda
1/4 teaspoon (1 gram) salt
1 cup (240 ml/grams) water, at room temperature
1/3 cup (80 ml) vegetable, corn, safflower, or canola oil
1 tablespoon (12 grams) lemon juice or cider vinegar
1 teaspoon (4 grams) pure vanilla extract
1/2 teaspoon (2 grams) pure coffee extract (optional)