Buttermilk Fruit Cake: Preheat your oven to 350 degrees F (180 degrees C) and place the oven rack in the center of the oven. Butter and flour, or spray with a nonstick vegetable/flour spray, a 9 x 5 x 3 inch (23 x 13 x 8 cm) loaf pan.
In a bowl, whisk the flour with the salt, baking soda, and ground spices. Add the dried and/or candied fruits and toss to coat all the fruit.
In another bowl, whisk together the buttermilk, melted butter, vanilla extract, and sugar. Stir the buttermilk mixture into the dry ingredients, mixing well. Immediately pour into the prepared pan, smoothing the top with an offset spatula or with the back of a spoon.
Bake in the preheated oven for about 50 - 60 minutes, or until the cake is golden brown and just starting to pull away from the sides of the pan. A toothpick inserted into the center of the cake will come out clean. Remove from oven and place on a wire rack to cool. Let cool for about 10 minutes before removing from the pan. This cake is excellent warm from the oven or at room temperature. Can be covered and stored at room temperature, or in the refrigerator, for about a week. Or it can be frozen.
Makes one - 9x5 inch (23 x 13 cm) loaf.

Scan for Demonstration Video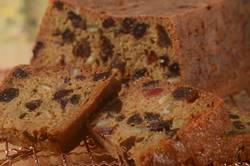 Buttermilk Fruit Cake:
1 1/2 cups (200 grams) all purpose flour
1/2 teaspoon (2 grams) salt
1 teaspoon (4 grams) baking soda
1/2 teaspoon freshly grated nutmeg
3/4 teaspoon ground cinnamon
1/4 teaspoon ground ginger
1/4 teaspoon ground cloves
1 cup (240 ml/grams) buttermilk, at room temperature
1/2 cup (113 grams) unsalted butter, melted and cooled to room temperature
1/2 teaspoon (2 grams) pure vanilla extract
3/4 cup (150 grams) firmly packed light brown sugar
2 cups (300 grams) dried and/or candied fruits (raisins, currants, dried dates, dried figs, dried cranberries, dried cherries, currants, dried apricots, candied mixed peel, candied cherries, etc.)