Cherry Pound Cake Recipe
Cherry Pound Cake: Preheat your oven to 350 degrees F (180 degrees C) and place the oven rack in the center of the oven. Butter, or spray with a non stick vegetable spray, an 8 1/2 x 4 1/2 x 3 inch (21 1/2 x 11 1/2 x 7.5 cm) loaf pan. Line the bottom of the pan with parchment paper and butter or spray the paper.
Place the candied cherries in a bowl, and toss with about 1 tablespoon of the flour.
Then, in the bowl of your electric stand mixer, fitted with the paddle attachment (or with a hand mixer), place the remaining flour, sugar, baking powder, and salt. Mix on low speed until combined. Add the butter and mix on low speed until the dry ingredients are moistened and have a mealy consistency (looks and feels like wet sand). (Batter will start to form clumps.) Scrape down the sides and bottom of the bowl as needed. Add the eggs, one at a time, and mix (on low speed) until batter is smooth. Then increase the mixer speed to medium high and beat for one minute to aerate and develop the cake's structure. Add the milk, vanilla extract, almond extract, and candied cherries and mix to combine.
Pour the batter into the prepared pan and smooth the top with an offset spatula or the back of a spoon. Bake for about 60 to 65 minutes or until the cake is golden brown and a toothpick inserted into the center of the cake comes out clean. Rotate your loaf pan front to back about halfway through baking. (The cake will crack down the center.) If you find the cake browning too much as it bakes, cover with a piece of foil.
Remove the cake from the oven and place on a wire rack to cool for about 10 - 15 minutes. Then remove the cake from the pan and cool completely on a wire rack.
The Pound Cake can be covered and stored for several days at room temperature, for one week when refrigerated, or it can be frozen for two months.
Makes one loaf.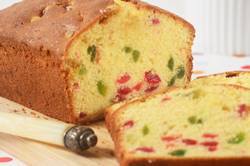 Cherry Pound Cake Recipe:
1 cup (200 grams) candied red and/or green cherries, rinsed of syrup, patted dry, and cut into small pieces
1 1/3 cups (175 grams) all purpose flour
3/4 cup (150 grams) granulated white sugar
1 teaspoon (4 grams) baking powder
1/4 teaspoon (1 gram) kosher salt
3/4 cup (170 grams) unsalted butter, at room temperature (cut into chunks)
3 large eggs (150 grams out of shell), at room temperature
3 tablespoons (40 grams) milk, at room temperature
1 teaspoon (4 grams) pure vanilla extract

1/4 teaspoon (1 gram) pure almond extract
Scan for Demonstration Video