Chocolate Balls Recipe
Chocolate Balls: In a bowl, place the butter and sugar. Using a wooden spoon or spatula (or with a hand mixer), mix until combined and the mixture is nice and smooth. Stir in the coffee and vanilla extract. Then stir in the instant espresso powder (if using) and unsweetened cocoa powder. Finally stir in the rolled oats.
Form into 1 inch (2.5 cm) round balls (about 23 grams for each ball) and roll the balls in the unsweetened dried coconut. Place on a parchment lined baking sheet, cover, and refrigerate until firm, preferably overnight. The Chocolate Balls can be stored in a covered container in the refrigerator for about 10 days or they can be frozen.
Makes about 16 - 1 inch (2.5 cm) Chocolate Balls.

Scan for Demonstration Video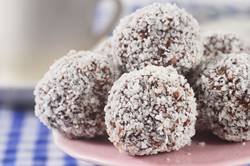 Chocolate Balls:
1/2 cup (113 grams) unsalted butter, at room temperature
1/2 cup (100 grams) organic cane sugar or granulated white sugar
2 tablespoons (18 grams) coffee, at room temperature
1 teaspoon (4 grams) pure vanilla extract
1/2 teaspoon instant espresso or coffee powder (optional)
1/4 cup (25 grams) unsweetened cocoa powder (natural or Dutch-processed)
1 1/2 cups (140 grams) quick cooking rolled oats
1 cup (85 grams) unsweetened dried coconut (preferably shredded)