Confectioners Frosting Recipe
Confectioners Frosting: In the bowl of your electric mixer, or with a hand mixer, beat the butter until smooth and well blended. Beat in the vanilla extract. With the mixer on low speed, gradually beat in the sugar. Scrape down the sides of the bowl as needed. Add the milk and beat to combine. Then, on high speed, beat frosting until it is light and fluffy (about 5 minutes). If not using right away, cover with plastic wrap to prevent the frosting from drying out.
This frosting can be stored in the refrigerator for up to 10 days. Bring to room temperature and re-whip before using. Add a little milk or sugar if needed to get the right consistency.
Tint portions of frosting with desired food color (I use the gel paste food coloring that is available at cake decorating stores and party stores).
To make a Chocolate Frosting prepare the above recipe but beat into finished frosting, four ounces (120 grams) of melted and cooled unsweetened chocolate. Add a little extra milk if needed.
This recipe makes enough to fill and frost one 8- or 9- inch (20 - 23 cm) cake.
Note: For a softer and fluffier frosting use a combination of 1/2 cup (113 grams) unsalted butter and 1/2 cup (113 grams) shortening.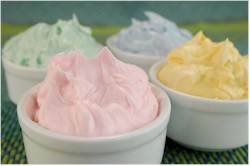 Confectioners Frosting Recipe:
4 cups (460 grams) confectioners sugar (icing or powdered sugar), sifted
1 cup (226 grams) unsalted butter, room temperature
1 teaspoon pure vanilla extract
4 tablespoons milk or light cream
Assorted food colors (if desired)If you are not familiar with Dutch-Processed or Alkalized Unsweetened Cocoa Powder it is cocoa that has been treated with an alkali to neutralize its acids. Because it is neutral and does not react with baking soda, it must be used in recipes calling for baking powder, unless there are other acidic ingredients in sufficient quantities used. It has a reddish-brown color, mild flavor, and is easy to dissolve in liquids. Its delicate flavor makes it ideal in baked goods like European cakes and pastries where its subtle flavor complements other ingredients. Droste, Lindt, Valrhona, Poulain and Pernigotti are some popular brands