Drop Biscuits Recipe
Drop Biscuits Recipe: Preheat your oven to 400 degrees F (200 degrees C) and place the oven rack in the center of the oven. Line a baking sheet with parchment paper.
In a large mixing bowl, sift or whisk together the flour, baking powder, salt, and sugar. Cut the butter into the dry ingredients until the mixture resembles coarse crumbs (use a pastry blender, two knives, or fingertips). Add the milk, all at once, and stir with a fork until the dough comes together and all the flour is moistened (the texture should be sticky, shaggy, and moist).
Using your fork or a cookie scoop, drop 6 mounds (1/3 cup each (75 grams)) onto your baking sheet. You can smooth the top and sides of the biscuits or leave them shaggy. Bake for about 16 to 20 minutes or until golden brown. Remove from oven and place on a wire rack. Serve warm or at room temperature with butter and/or jam.
Makes about 6 Biscuits.

Scan for Demonstration Video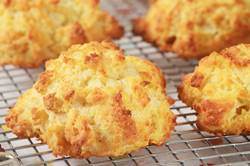 Drop Biscuits Recipe:
1 1/2 cups (195 grams) all-purpose flour
2 teaspoons (8 grams) baking powder
1/4 teaspoon (1 gram) fine kosher salt
1 tablespoon (15 grams) granulated white sugar (optional)
6 tablespoons (85 grams) cold unsalted butter, cut into chunks
2/3 cup (160 ml/grams) cold milk (whole or 2% reduced fat)