Frozen Strawberry Pops: Place the sugar and water in a small saucepan and bring to a boil. Let the mixture boil for about one minute or until the sugar dissolves. Remove from heat and let cool. The sugar syrup can be made, covered, and stored in the refrigerator for up to a week.
Next, thaw the unsweetened frozen strawberries. Once thawed, place the strawberries in the bowl of your food processor or blender. Process the berries until they are pureed.
In a large bowl, combine the sugar syrup, strawberry puree, and fruit juice. Pour the mixture into your molds and freeze for about 10-12 hours (or overnight) until frozen.
Makes about 8 frozen strawberry pops (depending on the size of your molds).

Scan for Demonstration Video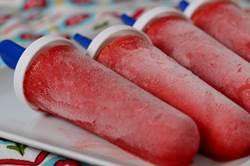 Sugar Syrup:
1/2 cup (100 grams) granulated white sugar
1/2 cup (120 grams) water
Strawberry Puree:
1 - 16 ounce bag (450 grams) of frozen unsweetened strawberries
1/2 cup (120 grams) lemonade, limeade, orange or apple juice
Note: You can also make a strawberry puree from fresh strawberries. Simply place 1 pound (450 grams) fresh strawberries, cut into pieces, into your food processor and process until the strawberries are pureed.