Homemade Applesauce Recipe
Homemade Applesauce: Peel, core, and cut the apples into about 1/2 inch (1 cm) chunks. In a medium sized saucepan bring the apple juice, cider, or water just to a boil. Add the chunks of apple, stir, and reduce heat to a simmer. Cover and, stirring occasionally, cook (stew) the apples until soft, almost translucent (about 20-30 minutes). Remove from heat and stir, with a wooden spoon, potato masher, or fork, until desired consistency is reached (smooth or chunky). If needed, stir in 1-2 tablespoons of white or brown sugar, or to taste. Can also add a little ground cinnamon, freshly grated lemon or orange zest, a splash of lemon juice, or Calvados (apple brandy).
Store covered in the refrigerator for one week or in the freezer for about a month.
Makes approximately 3 cups (720 ml).
Scan for Demonstration Video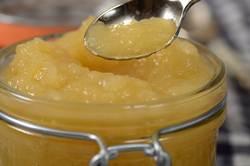 Homemade Applesauce:
6 medium sized apples (about 2 1/4 pounds, 1.1 kg)*
3/4 cup (180 ml) unsweetened apple juice, apple cider, or water
1-2 tablespoons sugar (granulated white or brown sugar) or to taste, optional
*Note: I like to combine 2 - 3 different types of apples.