Hot Chocolate: Place the milk, semisweet chocolate, milk chocolate, and sugar (if using), in a saucepan over medium heat and whisk constantly until the mixture just reaches the boiling point. Remove from heat and if more foam is desired, use a wire whisk or hand held immersion blender to whip the hot chocolate.
Pour the hot chocolate into two cups and garnish with a dollop of whipped cream or marshmallows. If desired, sprinkle with some grated chocolate or a dusting of cocoa powder.
Whipped Cream: In your mixing bowl, place the whipping cream, and sugar and whisk until stiff peaks form.
Note: To make hot or iced mocha simply replace 1/2 cup (120 ml) milk with your favorite brewed coffee. Proceed with the recipe and if you want it iced, let the mixture cool and then pour over ice cubes. Garnish with whipped cream and grated chocolate.
Note: Leftovers can be covered and stored in the refrigerator for a couple of days. Reheat.
Makes 2 - 8 ounce (240 ml) servings.

Scan for Demonstration Video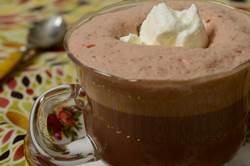 Hot Chocolate Recipe:
2 cups (480 ml) milk
3 ounces (90 grams) semisweet chocolate, chopped
1 ounce (30 grams) milk chocolate, chopped
2 teaspoons (10 grams) granulated white sugar, or to taste (optional)
Whipped Cream:
1/4 cup (60 ml) cold heavy whipping cream (cream with 35-40% butterfat content)
1 teaspoon (5 grams) granulated white sugar
Grated chocolate or cocoa powder