No Bake Cheesecake Recipe
Graham Cracker Crust: In a large bowl, mix together the graham cracker crumbs, sugar, and melted butter. Press onto the bottom and up the sides of a buttered 8 or 9 inch (20 or 23 cm) tart pan with a removable bottom. (Can also use an 8 or 9 inch (20 or 23 cm) spring form pan. Press the crumb mixture onto the bottom and one inch (2.5 cm) up the sides of the pan.) Cover with plastic wrap and place in the refrigerator to chill while you make the filling.
Cheesecake Filling: In the bowl of your electric stand mixer, fitted with the whisk attachment (or with a hand mixer), whip the cream until soft peaks form. Transfer the whipped cream to a clean bowl. Next, place the cream cheese in the same bowl you whipped the cream. Using the paddle attachment, beat the cream cheese until smooth. Add the sugar and vanilla extract and beat until light and fluffy. Scrape down the sides and bottom of the bowl as needed.
Gradually fold or beat the whipped cream into the cream cheese mixture until smooth and creamy. Pour the filling over the chilled graham cracker crust and smooth the top with the back of a spoon or an offset spatula. Cover and place in the refrigerator for at least an hour before serving. You can spread the cherry filling over the cream cheese filling or serve it on the side. The No Bake Cheesecake can be stored in the refrigerator for about five days.
Makes about 8 servings.

Scan for Demonstration Video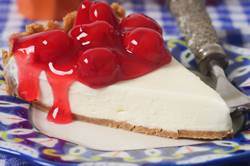 Graham Cracker Crust:
1 1/2 cups (150 grams) graham cracker crumbs or crushed digestive biscuits
1 tablespoon (15 grams) granulated white sugar (optional)
6 tablespoons (85 grams) unsalted butter, melted
No Bake Cream Cheese Filling:
1 cup (240 ml/grams) cold heavy whipping cream (contains 35-40% butterfat)
8 ounces (227 grams) full fat cream cheese, at room temperature
1/4 cup (50 grams) granulated white sugar
1 teaspoon (4 grams) pure vanilla extract
Topping:
1 - 21 ounce can (595 grams) cherry pie filling and topping