Oatmeal Raisin Cookies
Oatmeal Raisin Cookies: Preheat your oven to 350 degrees F (180 degrees C). Line two baking sheets with parchment paper. Or you can simply butter your baking sheets or spray them with a non stick cooking spray.
In the bowl of your electric mixer (or with a hand mixer), beat the butter until smooth. Then add the brown and white sugars and beat until creamy and smooth (about 2 - 3 minutes). Scrape down the sides of your bowl as needed. Then add one egg and beat until it's mixed into the batter and then beat in the second egg, along with the vanilla extract. In a separate bowl, whisk together the flour, baking soda, salt, and ground cinnamon. Add this mixture to the batter and beat until incorporated. Stir in the rolled oats and raisins
For large cookies, use about 1/4 cup (60 ml) (60 grams) of batter (I like to use an ice cream scoop) and place six cookies on each baking sheet. Flatten the cookies slightly until they are about 1/2 inch (1.25 cm) thick. Bake the cookies for about 14 - 16 minutes rotating the cookie sheets halfway through the baking time. The cookies are done when golden brown around the edges but still a little soft in the centers. (The longer the cookies bake the more crispy they will be.) Remove from oven and let the cookies cool a few minutes on the baking sheet before transferring them to a wire rack to finish cooling. These cookies will keep several days at room temperature. They can also be frozen.
Makes about 18 large cookies

Scan for Demonstration Video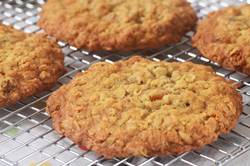 Oatmeal Raisin Cookies:
1 cup (226 grams) unsalted butter, room temperature
1 cup (205 grams) firmly packed light brown sugar
1/3 cup (65 grams) granulated white sugar
2 large eggs, at room temperature
1 teaspoon pure vanilla extract
1 1/2 cups (195 grams) all purpose flour
1 teaspoon (5 grams) baking soda
1 teaspoon (5 grams) kosher salt
1/2 teaspoon (1 gram) ground cinnamon (optional)
3 cups (260 grams) old-fashioned rolled oats
1 cup (140 grams) dark or golden raisins