Pumpkin Cake Recipe
Pumpkin Cake: Preheat the oven to 350 degrees F (177 degrees C) and place rack in center of oven. Butter (or spray with a non stick vegetable spray) a 10 inch (25 cm) bundt pan.
In the bowl of your electric mixer (or with a hand mixer), beat the eggs, oil, vanilla extract, and sugar until well combined (about 2 minutes). Add the pumpkin puree and beat until incorporated.
In a separate bowl, whisk together the flour, wheat bran, baking soda, baking powder, salt and spices. Add the flour mixture to the pumpkin batter and beat just until incorporated. Stir in the nuts. Pour the batter into the prepared pan. Bake for approximately 50 to 60 minutes, or until a toothpick inserted in the center of the cake comes out clean. Cool on a wire rack for 10 minutes and then invert and remove the cake from the pan. Cool completely before frosting.
Chocolate Glaze: Melt the chocolate, butter, and corn syrup in a stainless steel bowl placed over a saucepan of simmering water. Remove from heat, stir in the brandy, and let cool to room temperature. Pour the glaze over the top of the cooled bundt cake, letting the glaze flow down the sides. Keeps several days at room temperature.
Makes one - 10 inch (25 cm) bundt cake.

Scan for Demonstration Video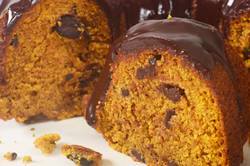 4 large eggs
1 cup (240 ml) canola, corn, or safflower oil (or other flavorless oil)
1 teaspoon pure vanilla extract
1 3/4 cups (350 grams) granulated white sugar
1 - 15 ounce can (425 grams) pure pumpkin (pumpkin puree)
2 cups (260 grams) all purpose flour
1 cup (50 grams) wheat bran
2 teaspoons baking powder
1 teaspoon baking soda
1/4 teaspoon salt
3/4 teaspoon ground cinnamon
1/4 teaspoon ground ginger
1/8 teaspoon ground cloves
1 cup (240 ml) chopped walnuts or mini chocolate chips
Chocolate Glaze:
6 ounces (180 grams) semi sweet chocolate, chopped
1/4 cup (57 grams) butter, diced
2 Tbsp. light corn syrup (liquid glucose)
1 tablespoon brandy (optional)