For Pumpkin Cookies: Preheat oven to 325 degrees F (165 degrees C) and place oven rack in the center of the oven. Line two baking sheets with parchment paper.
In a large bowl, sift or whisk together the flour, baking powder, baking soda, ground cinnamon, ground ginger, ground cloves, and salt.
In the bowl of your electric mixer, or with a hand mixer, beat the eggs and sugar until light and smooth (about 2 minutes). Beat in the oil, vanilla extract, and pumpkin puree. Add the flour mixture and beat just until incorporated. Using 1/4 cup of batter (can use a small ice cream scoop or measuring cup) place small mounds of batter onto the prepared baking sheet, spacing about 2 inches (5 cm) apart.
Bake for about 15 - 18 minutes or until a toothpick inserted in the center of a cookie comes out clean. Remove from oven and transfer to a wire rack to cool completely before frosting. Place small dollops of the frosting on each cookie or put the frosting in a piping bag, fitted with a small plain tip, and pipe swirls of frosting on the top of each cookie. Store frosted cookies in the refrigerator.
Frosting: Beat the cream cheese and butter until soft and creamy. Beat in the confectioners' sugar and vanilla until the frosting is soft and creamy and of spreading consistency.
Makes about 18 cookies.
Note: Instead of frosting the cookies, you could add to the batter 1 cup of chopped nuts or chocolate chips.

Scan for Demonstration Video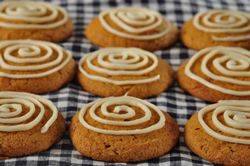 Pumpkin Cookies:
2 cups (260 grams) all purpose flour
1 1/4 teaspoons baking powder
1 teaspoon baking soda
1 teaspoon ground cinnamon
1/4 teaspoons ground ginger
1/8 teaspoon ground cloves
1/2 teaspoon salt
2 large eggs, room temperature
1 1/4 cups (260 grams) light brown sugar
1/2 cup (120 ml) canola oil or corn oil (or other flavorless oil)
1 teaspoon pure vanilla extract
1 cup (240 ml) pumpkin puree
Cream Cheese Frosting:
4 ounces (115 grams) room temperature cream cheese, regular or low fat
2 tablespoons (30 grams) unsalted butter, room temperature
1/2 cup (60 grams) confectioners' (powdered or icing) sugar
1/2 teaspoon pure vanilla extract