Pumpkin Cream Cheese Muffins
Pumpkin Muffins: Preheat your oven to 350 degrees F (180 degrees C). Place your oven rack in the middle of your oven. Butter or spray each muffin cup with a non stick vegetable spray.
Cream Cheese Filling: In your electric mixer, or with a hand mixer, beat the cream cheese until smooth. Add the sugar, egg, and vanilla extract and beat until creamy and smooth. Set aside while you make the muffin batter.
Pumpkin Muffins: In the bowl of your electric mixer, or with a hand mixer, beat to combine the flour, sugar, baking powder, baking soda, ground spices, and salt. Add the butter, eggs, vanilla extract, and pumpkin puree. Beat the wet and dry ingredients together at medium speed until the batter is smooth and satiny, about 30-60 seconds. Scrape down the sides of the bowl as needed.
Fill the muffin cups evenly (about 2/3 full) with the batter using two spoons or an ice cream scoop. Make a well in the center of the batter of each muffin and then spoon a few tablespoons of the cream cheese filling into the well. Place in the oven and bake for about 18-20 minutes, or until the cream cheese filling has set and the pumpkin feels springy to the touch (a toothpick inserted into the pumpkin part of the muffin will come out clean.) Place on a wire rack to cool.
Makes about 12 regular-sized muffins
.

Scan for Demonstration Video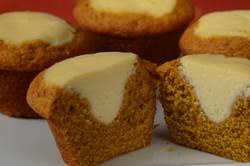 Cream Cheese Filling:
1 - 8 ounce package (227 grams) full fat cream cheese, at room temperature
1/3 cup (65 grams) granulated white sugar
1 large egg, at room temperature (55 grams out of shell)
1/2 teaspoon (2 grams) pure vanilla extract
Pumpkin Muffins:
1 1/2 cups (195 grams) all purpose flour
1 cup (200 grams) granulated white sugar
1 teaspoon (4 grams) baking powder
1/2 teaspoon (2 grams) baking soda
1 teaspoon (2 grams) ground cinnamon
1/2 teaspoon (1 gram) ground ginger
1/4 teaspoon ground cloves
1/2 teaspoon (2 grams) salt
1/2 cup (113 grams) unsalted butter, softened
2 large eggs, at room temperature (110 grams out of shell)
1 teaspoon (4 grams) pure vanilla extract
3/4 cup (170 grams) solid packed, canned pumpkin puree