Ricotta Cheesecake: Preheat oven to 350 degrees F (180 degrees C) and butter, or spray with non stick cooking spray, a 9 inch (23 cm) spring form pan. Wrap the outside of the pan with two layers of heavy aluminum foil.
Crust: In a bowl combine the graham cracker crumbs, sugar, and melted butter. Press the crumbs evenly over the bottom of the spring form pan. Refrigerate while you make the filling.
Cheesecake Filling: In your food processor or electric stand mixer (or hand mixer), place the cream cheese and process (beat) until smooth with no lumps. Add the ricotta and sugar and process (beat) until smooth, scraping down the sides and bottom of the bowl as needed. Process (beat) in the cornstarch and salt. Add the eggs, one at a time, processing (beating) until incorporated. Finally, add the lemon zest and vanilla extract, and process (beat) until incorporated.
Remove the crust from the refrigerator and pour in the filling. Place the spring form pan in a large roasting pan. Pour enough hot (almost boiling) water into the roasting pan to come about halfway up the sides of your spring form pan.
Bake for about 50-60 minutes, or until the cheesecake is set, yet moves slightly when the pan is gently shaken (the edges of the cheesecake will have some browning). Remove the pan from the water bath and cool on a wire rack. Cover and chill in the refrigerator for at least 4 hours, or preferably overnight. You can cover and store this cheesecake for 3-4 days in the refrigerator, or it can be frozen.
Serves 8-10 people.

Scan for Demonstration Video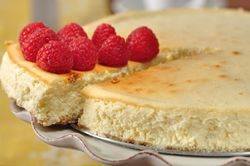 Crust:
1 cup (100 grams) graham cracker crumbs or crushed digestive biscuits
1-2 tablespoons (15-25 grams) granulated white sugar
4 tablespoons (55 grams) butter, melted
Cheesecake Filling:
1 - 8 ounce package (227 grams ) full fat cream cheese, room temperature
16 ounces (2 cups) (450 grams) whole milk ricotta, room temperature (drain, if necessary* (See Note))
1 cup (200 grams) granulated white sugar
1 tablespoon (10 grams) cornstarch (corn flour)
1/4 teaspoon salt
4 large eggs, room temperature
Zest of 1 lemon or orange (outer skin)
1 1/2 teaspoons (7 grams) pure vanilla extract
*Note: If the ricotta is watery, put the ricotta in a fine-meshed or a cheesecloth-lined strainer, placed over a bowl. Cover and place in the refrigerator to drain for an hour, or even overnight.