S'More Granola Bars Recipe
Preheat oven to 350 degrees F (180 degrees C) and place the rack in the center of the oven. Butter (or use a non stick cooking spray) a 9 x 9 inch (23 x 23 cm) square baking pan.
Melt the butter, brown sugar, and maple syrup (golden syrup) in a medium sized saucepan, placed over medium heat. Once the sugar has dissolved remove the saucepan from the heat and transfer the mixture to a large heatproof bowl. Stir in the flour, oats, graham cracker crumbs, coconut, salt and ground cinnamon, making sure all the dry ingredients are coated with the butter mixture. Press about half of this mixture into the prepared pan and leave to cool (about 5-10 minutes). Once the mixture has cooled sufficiently, evenly sprinkle with the chocolate chips and marshmallows. Top with the remaining crust mixture. Bake in the preheated oven for about 15 minutes. Remove from the oven and let cool for about 20 minutes. Cut into squares while they are still warm. Can be stored at room temperature for about 7-10 days.
Makes about 16 - 2 inch squares.

Scan for Demonstration Video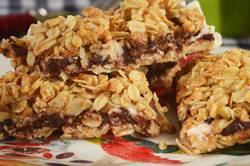 S'More Granola Bars
6 tablespoons (3 ounces) (84 grams) unsalted butter, cut into pieces
1/4 cup (55 grams) light brown sugar
1/3 cup plus 1 tablespoon (80 ml plus 1 tablespoon) pure maple syrup or golden syrup
1/2 cup (65 grams) all purpose flour
2 cups (190 grams) old fashioned rolled oats
1 cup (100 grams) graham cracker crumbs (or crushed digestive biscuits)
1/4 cup (25 grams) sweetened or unsweetened coconut (optional)
1/2 teaspoon salt
1/4 teaspoon ground cinnamon
Filling:
1 cup (170 grams) semisweet chocolate chips
1 1/2 cups (90 grams) mini marshmallows