White Chocolate Candy Bars Recipe
White Chocolate Candy Bars: Line the bottom and sides of an 8 x 8 inch (20 x 20 cm) square baking pan with aluminum foil.
In your food processor, place the white chocolate and process until the chocolate is in small pieces. Add the orange zest and juice and pulse until combined (just a few seconds).
In a small saucepan, over medium heat, bring the cream and corn syrup just to a boil. Pour the hot cream mixture over the chocolate in the food processor and pulse just until the mixture is smooth and the white chocolate has completely melted.
Transfer this mixture to a large bowl and stir in the chopped cranberries, apricots, and pistachios. Spread the mixture into your prepared pan and let cool to room temperature (about an hour). Lift the bars from the pan by holding the edges of the foil and place on a cutting board. Cut into 64 - 1 inch (2.5 cm) bars or 32 - 4 x 1/2 inch (10 x 1.25 cm) bars. Store, covered, in the refrigerator.
Serve in fluted candy paper cups.
Makes 63 - 1 inch (2.5 cm) bars or 32 - 4 x 1/2 inch (10 x 1.25 cm) bars.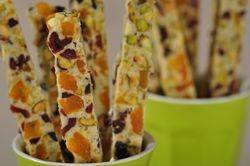 White Chocolate Candy Bars:
3/4 cup (75 grams) pistachios, chopped
9 ounces (255 grams) white chocolate, chopped
1 1/2 teaspoons grated orange zest (the outer orange skin of an orange)
1 tablespoon freshly squeezed orange juice
1/4 cup (60 ml) heavy whipping cream
1 tablespoon light corn syrup
3/4 cup (80 grams) dried cranberries or cherries, cut into small pieces
1/2 cup (80 grams) dried apricots, cut into small pieces