- Recipes were once known as "receipts".
- First cookbooks were written by chefs for chefs.
- It wasn't until the 18th century that cookbooks even began to look like what we have today.
- Hannah Glasse (1708-1770), Elizabeth Roffald (1733-1781) and Maria Rundell (1745-1829) were said to be the first English women to write cookery books aimed at the inexperienced housewife and her servants.

- Hannah Glasse wrote "The Art of Cookery Made Plain and Easy" in 1747 and she is probably the best known English cookbook writer of the 18th century. Unfortunately, it has been revealed that her book was full of plagiarized recipes. This was very common in the 18th century.
- During the 18th century, cookbooks used in the United States originated in England.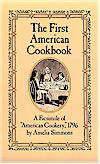 - Amelia Simmons wrote the first American cookbook "American Cookery", in 1796, that contained recipes using American ingredients like pumpkin, squash, and corn. It was also the first cookbook that contained recipes using an artificial leavener.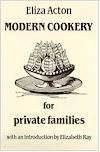 - Eliza Acton (1799-1859) wrote "Modern Cookery for Private Families" in 1845, and it was the first English cookbook that gave ingredients, quantities, and timing of recipes in a uniform and concise manner.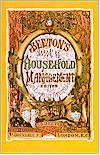 - Isabella Beeton (1836-1865) wrote the famous "Beeton's Book of Household Management" in 1861 and it followed the lead of Eliza Acton's book. She was just 25 years old when she wrote this cookery book that contained an amazing number of recipes as well as information for both the mistress and her servants on all aspects of housekeeping, including advice on lifestyles, morals, and etiquette.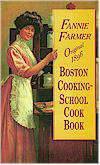 - The American, Fannie Merritt Farmer (1857-1915), is credited with creating the model or formula for how we write recipes today. She attended the Boston Cooking School and went on to teach there. In 1896 she wrote the famous "Boston Cooking School Cook Book" which some call 'the Bible of the American kitchen'. Her approach to cooking was very scientific and her recipes were the first to give very precise measurements. In the past cookery books were more artistic and the recipes were more a guide to creating a dish. Fannie Farmer changed all this by listing the precise amount of each ingredient at the top of the recipe, followed by instructions on how to prepare the dish. We still use this formula today. (Sources used are listed in the Bibliography.)