Banana Streusel Bread Recipe
Preheat oven to 350 degrees F (180 degrees C) and place the rack in the center of the oven. Butter (or spray with a non stick vegetable spray) the bottom and sides of an 8-cup loaf pan (9 x 5 x 3 inch) (23 x 13 x 8 cm). Set aside.
In a large bowl combine the flour, sugar, baking powder, baking soda, salt, 2/3 cup of pecans, and half of the chopped caramels.
In a medium-sized bowl combine the mashed bananas, eggs, melted butter, yogurt, and vanilla. With a rubber spatula or wooden spoon, lightly fold the wet ingredients (banana mixture) into the dry ingredients until just combined and the batter is thick and chunky. (The important thing is not to over mix the batter. Over mixing the batter will yield a tough, rubbery bread.) Scrape the batter into the prepared pan and sprinkle remaining 1/3 cup of pecans and chopped caramels over the top of the batter. Bake until bread is golden brown and a toothpick inserted in the center comes out clean, 50 - 60 minutes. Place on a wire rack to cool and then remove the bread from the pan. Serve warm or at room temperature.
Makes one - 9 inch loaf.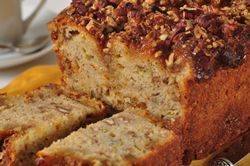 2 cups (260 grams) all-purpose flour
1/2 cup (110 grams) light brown sugar
1 1/4 teaspoons baking powder
1/4 teaspoon baking soda
1/4 teaspoon salt
1 cup (100 grams) pecans, coarsely chopped
1 - 5.5 ounce (155 gram) package of Werther's Original Chewy Caramels, coarsely chopped
2 ripe large bananas, mashed
2 large eggs, lightly beaten
1/2 cup (113 grams) unsalted butter, melted and cooled
1/3 cup coffee flavored yogurt (can also use plain, vanilla, or caramel flavored yogurt)
1 teaspoon pure vanilla extract