Poppy Seed Muffins Recipe
Poppy Seed Muffins: Preheat oven to 400 degrees F (205 degrees C) and place rack in center of oven. Line a 12 cup muffin pan with paper liners or spray each muffin cup with a non stick vegetable spray.
In a bowl, whisk the flour with the poppy seeds, salt, and baking soda.
In the bowl of your electric mixer, or with a hand mixer, beat the butter and sugar until light and fluffy. Beat in the eggs, one at a time, beating well after each addition. Scrape down the sides of the bowl as needed. Beat in the lemon zest, yogurt (or sour cream), and vanilla extract until well blended. Stir in the flour mixture just until moistened. Do not over mix. Spoon the batter into the muffin cups using two spoons or an ice cream scoop. Bake for about 18-20 minutes or until a toothpick inserted in the center of a muffin comes out clean. Remove from oven and place on a wire rack to cool for about five minutes before removing from pan.
Lemon Glaze: Place the sugar in a small bowl and stir in the lemon juice. While the muffins are still warm, drizzle the tops with the glaze.
Makes 12 muffins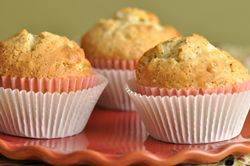 Poppy Seed Muffins:
2 cups (260 grams) all-purpose flour
1 tablespoon poppy seeds
1/4 teaspoon salt
1/2 teaspoon baking soda
1/2 cup (113 grams) unsalted butter
1 cup (200 grams) granulated white sugar
2 large eggs
Zest of one lemon
1 cup (240 ml) plain yogurt or sour cream (do not use non fat yogurt or sour cream)
1 teaspoon pure vanilla extract
Lemon Glaze: (optional)
1/2 cup (60 grams) confectioners sugar (powdered or icing sugar)
2 tablespoons fresh lemon juice
Note: Lemon zest is the yellow outer skin of the lemon that contains the fruit's flavor and perfume.