Lemon Streusel Cake Recipe
Lemon Streusel Cake: Preheat your oven to 350 degrees F (180 degrees C) and place the oven rack in the center of the oven. Butter, or spray with a non stick vegetable spray, a 9 inch (23 cm) spring form pan. Line the bottom of the pan with parchment paper.
Pecan Streusel: Place the pecans on a baking sheet and bake about 8 minutes or until lightly brown and fragrant. Cool completely and then coarsely chop.
In a small bowl, combine the brown sugar, ground cinnamon, and flour. Stir in the melted butter until the flour mixture is moistened. Stir in the chopped pecans. Set aside while you make the cake.
Yogurt Cake: In a large bowl, stir or whisk together the flour, baking powder, baking soda, and salt.
In another bowl, stir or whisk together the eggs, oil, yogurt, and vanilla extract. Stir in the sugar.
Next, add the wet ingredients to the dry flour mixture. Stir just until combined. Pour the batter into the prepared pan, smoothing the top with the back of a spoon or offset spatula. Then evenly spread the lemon curd on top of the cake batter. Finally, evenly sprinkle with the Pecan Streusel.
Bake in preheated oven for about 35 to 45 minutes or until a toothpick inserted into the center of the cake comes out just clean. Remove from oven and place on a wire rack to cool for about 10 minutes. Then remove the sides of the pan and let cool completely.
Makes one - 9 inch (23 cm) cake.

Scan for Demonstration Video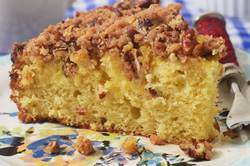 Lemon Streusel Cake Recipe:
Pecan Streusel:
3/4 cup (75 grams) pecans (or walnuts)
1/4 cup (50 grams) light brown sugar, firmly packed
1/2 teaspoon ground cinnamon
2 tablespoons (25 grams) all purpose flour
2 tablespoons (25 grams) melted butter
Yogurt Cake:
1 1/2 cups (195 grams) all purpose flour
1 teaspoon (4 grams) baking powder
1/2 teaspoon (2 grams) baking soda
1/2 teaspoon (2 grams) kosher salt
3 large eggs (150 grams out of shell), at room temperature
1/2 cup (120 ml/grams) flavorless oil (safflower, corn, vegetable, or canola)
1/2 cup (120 ml/grams) whole milk plain yogurt, at room temperature
1 1/2 teaspoons (6 grams) pure vanilla extract
3/4 cup (150 grams) granulated white sugar
3/4 cup (180 ml/grams) lemon curd (homemade or store bought)