Plum Coffee Cake: Preheat your oven to 375 degrees F (190 degrees C) and place the oven rack in the center of the oven. Butter an 8 inch (20 cm) spring form pan. (Alternatively spray pan with non stick vegetable/flour spray.) Line the bottom of the pan with parchment paper.
In a large bowl, stir or whisk together the flour, ground almonds, baking powder and salt.
In another large bowl, stir or whisk together the eggs, oil, yogurt, orange or lemon zest (if using), and vanilla extract. Stir in the sugar. Add the wet ingredients to the dry flour mixture. Stir until just combined. Scrape the batter into the prepared pan and evenly arrange the halved plums on top of the batter, flesh side facing up. Sprinkle with the brown sugar.
Bake in preheated oven for about 45 to 55 minutes or until a toothpick inserted into the center of the cake comes out clean. Remove from oven and place on a wire rack to cool. You can serve this cake with a little honey drizzled over the top or with a dollop of whipped cream, ice cream, or lightly sweetened yogurt.
Makes one - 8 inch (20 cm) cake.

Scan for Demonstration Video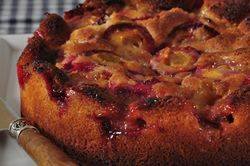 Plum Coffee Cake:
1 1/4 cups (165 grams) all purpose flour
1/4 cup (30 grams) ground almonds
2 teaspoons (8 grams) baking powder
1/4 teaspoon (1 gram) salt
2 large eggs, at room temperature
1/2 cup (120 ml) flavorless oil (safflower, corn, vegetable, or canola)
1/2 cup (120 ml) whole milk plain yogurt or flavored yogurt
Zest (outer skin) of one orange or lemon (optional)
1 teaspoon (4 grams) pure vanilla extract
1 cup (200 grams) granulated white sugar
7 - 8 Italian prune plums, halved and pitted or 4 - 5 red or black plums, halved and pitted (if the plums are large then cut into quarters)
Garnish:
1 - 2 tablespoons (15 - 25 grams) coarse brown sugar (I like to use Turbinado or Demerara sugar)