Frangipane: In the bowl of your electric mixer, or with a hand mixer, cream the sugar and butter. Beat in the egg and vanilla extract until smooth. Add the almond meal and flour and beat until it forms a smooth paste. Transfer to a small bowl, cover and refrigerate.
Puff Pastry: Once the puff pastry has been defrosted, as per manufacturer's instructions: Unfold one sheet of puff pastry onto a lightly floured surface and cut the sheet into thirds with a sharp knife. Then cut each third in half. Repeat with the second layer of puff pastry. Place the pastries (you will have 12 altogether) on a parchment lined baking sheet. Then, with an offset spatula or large knife, spread a thin layer of frangipane (about 1 heaping tablespoon) on each pastry, leaving about a 1/4 inch (1 cm) border. Cover and refrigerate the pastries for about 15 minutes.
Preheat oven to 400 degrees F (205 degrees C) and place the oven rack in the middle of the oven
Peel and slice the apples into 1/4 inch slices. Place in a large bowl and toss with the sugar and ground cinnamon. Remove the puff pastry from the refrigerator and lay the sugar coated apple slices on top of the frangipane, overlapping the slices.
Bake for about 15 - 20 minutes or until the apples are slightly browned and tender and the puff pastry is golden brown. Remove from oven and place on a wire rack.
Preheat the oven broiler and move the rack to the top shelf of the oven. Lightly dust the tops of the apples with confectioners sugar (powdered or icing) and place under the broiler until the tips of the apples start to caramelize. Watch closely and move the pan as needed. Serve warm or cold with softly whipped cream or vanilla ice cream.
Makes 12 galettes.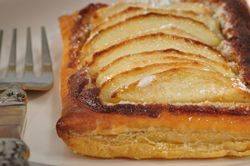 Frangipane (Almond Cream):
1/4 cup (50 grams) granulated white sugar
3 tablespoons (42 grams) unsalted butter
1 large egg
1/2 teaspoon pure vanilla extract
1/2 cup (42 grams) almond meal (flour)
1 tablespoon (12 grams) all purpose flour
Crust:
1 pound (454 grams) frozen puff pastry, defrosted
Filling:
2 pounds (900 grams) Granny Smith Apples
2 tablespoons (25 grams) granulated white sugar
1/8 teaspoon ground cinnamon (optional)
Garnish:
Confectioners' (powdered or icing) sugar
Softly whipped cream (optional)