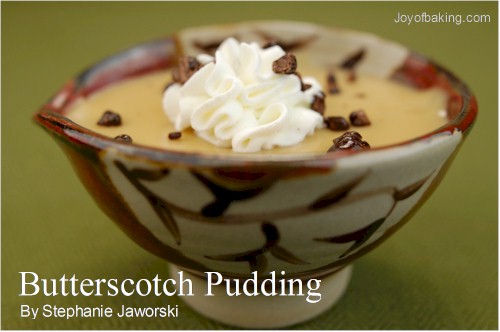 Butterscotch Pudding gets its wonderful butterscotch flavor from dark brown sugar and pure vanilla extract. Puddings are one of the simple pleasures of life and while we often think of them as nursery food or food for the sick, their rich flavor and creamy texture seem to nurture us all. Unfortunately there is a trend for making puddings from a box but I encourage you to try making your own. Homemade butterscotch pudding tastes so much better than boxed and has the added advantage of not containing preservatives or other ingredients that we cannot even pronounce. This Butterscotch Pudding starts with simple ingredients, milk, eggs, dark brown sugar, cornstarch (corn flour), butter, and vanilla extract. If you can, use "pure" vanilla extract, organic milk, and eggs from vegetarian fed hens.
When you make this butterscotch pudding what you are really doing is making a 'cooked' custard. There is only one real difference between a pudding and a custard and that is cornstarch (corn flour). Cornstarch is added to a cooked pudding so it becomes thick enough to eat with a spoon. The important thing is that they have to be cooked carefully as we do not want lumps or even worse, scorching. So keep the heat fairly low and use a heavy bottomed saucepan, making sure that you stir constantly with a large heatproof rubber spatula. When stirring it is important to reach the bottom, sides and corners of the saucepan to prevent the pudding from sticking and scorching. Once the pudding has become thick, like mayonnaise, remove it from the heat and add the butter and vanilla extract. Then strain the pudding to get rid of any lumps that may have formed. If you like your pudding warm, then by all means eat it right away. But if you like your pudding cold, simply press plastic wrap onto the surface of the puddings and refrigerate until firm (a couple of hours). For those who like a skin (film) on the top of their pudding, let the pudding cool uncovered and then cover with plastic wrap and refrigerate. Of course, puddings always seem to taste better when there is a large dollop of cream on the top, and maybe some chopped pecans or chocolate shavings.
This recipe is one I adapted from Richard Sax's cookbook "Classic Home Desserts" which is full not only of homey desserts but of great advice and history.