Pate Brisee: In a food processor, place the flour, salt, and sugar and process until combined. Add the butter and process until the mixture resembles coarse meal (about 15 seconds). Pour 1/8 cup (30 ml) water in a slow, steady stream through the feed tube until the pastry just holds together when pinched. Add remaining water, if necessary. Turn the pastry out onto your work surface, gather it into a ball, cover with plastic wrap, and refrigerate for about one hour (or overnight).
Cranberry Filling: The night before you are going to make the galette, combine the superfine sugar and brown sugar in a large bowl. (To make superfine sugar, place 3/4 cup (150 grams) of granulated white sugar in your food processor and process until the sugar is very fine.) Cut each cranberry in half and add them to the sugar mixture. Stir the mixture well, cover with plastic wrap, and place in the refrigerator overnight. The next day, remove the cranberries from the refrigerator and stir in the chopped walnuts.
Preheat the oven to 400 degrees F (205 degrees C) and put the oven rack at the lowest level. Although not absolutely necessary, if you have a baking stone, place it on the rack before preheating the oven. Then remove the pastry from the refrigerator and place on a lightly floured surface. Roll the pastry into an 15 inch (40 cm) round. Transfer the pastry to a parchment paper lined baking sheet. Leaving about a 1 1/2 inch (4 cm) border all around, cover the pastry with the cranberry walnut mixture. Gently fold the edges of the pastry up and over the filling, pleating as necessary. Brush the edges of the pastry with a little water and sprinkle with about 1 tablespoon of white sugar. Cut a 10 inch (25 cm) round of aluminum foil and place it over the cranberries, but leave the edges of the pastry uncovered. Transfer the galette to the oven and bake for about 30 minutes. Then, place a second round of aluminum foil that is large enough to cover the entire galette (filling and crust) and continue to bake for another 5 - 10 minutes, or until the bottom crust is golden brown.
Remove from oven and place on a wire rack to cool for about 15 to 20 minutes before serving. Dust with powdered sugar. Serve plain or with softly whipped cream or vanilla ice cream. Cover any leftovers with plastic wrap and store at room temperature for a few days.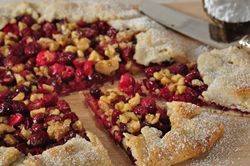 Pate Brisee (Short Crust Pastry):
1 1/4 cups (175 grams) all-purpose flour
1/2 teaspoon salt
1 tablespoon (14 grams) granulated white sugar
1/2 cup (1 stick) (113 grams) unsalted butter, chilled, and cut into 1 inch (2.5 cm) pieces
1/8 to 1/4 cup (30 - 60 ml) ice water
Cranberry Filling:
3 cups (300 grams) fresh or frozen cranberries
3/4 cup (150 grams) superfine white sugar
1/4 cup (55 grams) light brown sugar
3/4 cup (85 grams) walnuts, coarsely chopped