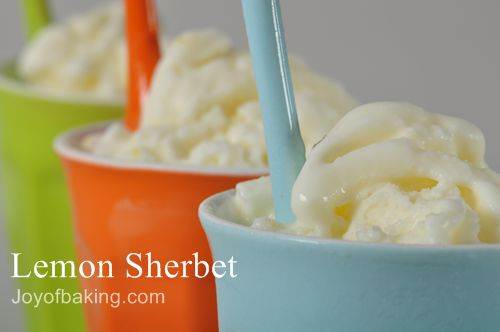 Lemon Sherbet has such a bright and refreshing flavor. It is creamy yet a little grainy with a tangy sweet lemon flavor. I love how easy this sherbet is to make. Just stir together equal amounts of lemon juice, heavy whipping cream, and milk. When making this sherbet keep in mind that the tartness of the lemons can vary so you may have to adjust the amount of sugar. Which means you should taste the sherbet before you freeze it, and if necessary, add a little more sugar. This Lemon Sherbet is excellent when served as a palate cleanser between courses or it makes a lovely dessert. Serve alone or with fresh fruit.

Sherbet has a long history and in ancient times was a non alcoholic sweetened fruit drink sold in the Middle East by street vendors during the summer months. Over time 'Sherbet', changed and alcohol was added to it so a new name 'sharbet' was given to the original non alcoholic fruit drink. By the 16th century the 'sharbet' had made its way to Europe where it became very popular. But different countries called it different names; in Italy the fruit drink was called 'sorbetto' (from the verb 'sorboire' meaning 'to sip'), in France it was called 'sorbet', in Spain it was called 'sorbete' and the English called it 'sherbet'. It evolved even further with the advent of making artificial ice, when sorbets/sherbets were sometimes frozen and were either served as a drink or eaten with a spoon.

If that wasn't confusing enough, we look to America at the turn of the 19th century, where the word 'sherbet' and 'sorbet' were (and still are in some places) used interchangeably. But there are, in fact, differences between the two.

'Sorbets' come closest to the original Middle Eastern drink as they are made using fresh fruit (juices/purees), sugar, water and sometimes lemon/lime juice. 'Sherbets', on the other hand, also contain fruit juice or puree, sugar, and water but milk and/or cream, and sometimes even eggs, are added to give them a smooth and rich consistency somewhere between an ice cream and a sorbet.