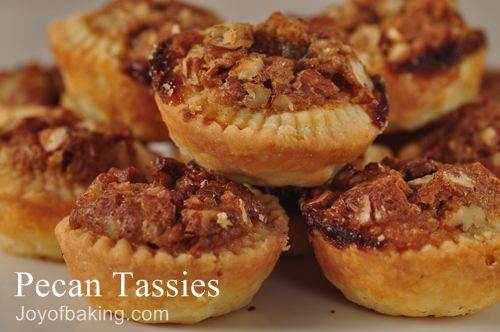 Pecan Tassies are cute little tarts made with a tender and flaky cream cheese pastry and a sweet and gooey filling full of chopped pecans. You might say they are a miniature pecan pies that can be eaten in two delicious bites.
Tarts begin with pastry. For these Pecan Tassies, I decided to use a cream cheese pastry that is made with just three ingredients; cream cheese, butter, and flour. This pastry is a dream to work with. It rolls out easily, doesn't tear, and when baked it turns golden brown with a texture that is soft and flaky with an, ever so slight, acidic flavor. The filling, like a pecan pie, is sweet and gooey, although I do not find it cloyingly so (as there is no corn syrup). This type of custard filling is what Marion Cunningham in her excellent book "The Fannie Farmer Baking Book" describes as "translucent". It is "a baked mixture thickened with eggs, but containing no milk - only large amounts of sugar, eggs, butter, and some flavoring" (in this case vanilla extract). She cautions us not to over bake these tarts, "as with all custards, these fillings become granular if over baked". So it is best if the filling is baked only until set yet still a little soft in the center.
Of course, the star of the show here is the Pecan. Pecans, named Pakans by Algonquin Indians because of their hard shell, are a native American nut. They are a member of the hickory family and grow in temperate climates. Here in the United States, they are cultivated in the States of Georgia, Oklahoma, and Texas. Pecans have a smooth, reddish-brown, one-inch (2.5 cm) long oval shell which encloses two golden-brown crinkled lobes with ivory-colored meat. They have a buttery, soft-textured, slightly bittersweet taste that is enhanced when toasted. If you would like to toast the pecans before adding them to the filling, simply place the pecans on a baking sheet and bake for 6-8 minutes in a 350 degree F (180 degree C) oven until lightly browned. Cool before using.
Pecan Tassies are delicious warm, cold, or at room temperature, They freeze very well which makes them ideal for the Christmas season.