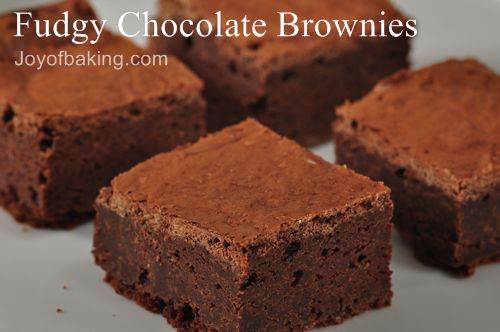 These Fudgy Chocolate Brownies use a whooping pound and a half of chocolate which makes an amazing brownie. They are rich and oh so chocolately, with a dense, almost fudge-like texture. Although this recipe does not call for nuts, if you want a little crunch then fold in one cup of chopped walnuts, pecans, or hazelnuts. Or another idea would be to add one cup of dark or white chocolate chips. These brownies are sure to disappear quickly.
This Fudgy Chocolate Brownie recipe makes a 9 x 13 inch (23 x 33 cm) pan of brownies which is perfect for large gatherings. If you would like to make a smaller batch, simply half the recipe and bake the brownies in an 8 x 8 inch (20 x 20 cm) pan for about 30-35 minutes. Now, these brownies are easy to prepare and no mixer is needed, just two bowls. In one bowl melt the chocolate and butter, and in the other bowl whisk together the sugar and eggs. Then stir the melted chocolate and butter mixture into the sugar and egg mixture and fold in the dry ingredients. That is it. The brownies are baked in a moderate oven until a toothpick inserted in the center comes out with a few moist crumbs. Do not over bake or the brownies will be too dry. Under baking is better than over baking with these brownies. I love how the top crust of the brownies will be dry and cracked, but underneath the brownies will be moist and fudgy. The day the brownies are baked, the chocolate flavor will be quite sharp. I much prefer them after a day or two in the refrigerator when the chocolate flavor has mellowed and their texture is dense and almost fudge-like. These Fudgy Chocolate Brownies can be stored in the refrigerator for several days or they can be frozen.
When choosing a chocolate, always pick one that you enjoy eating out-of-hand. A good quality chocolate has a lovely shiny finish (a sign that the chocolate was cooked at the right temperature for the right amount of time) and a wonderful 'snap' when you break it into pieces. Although this recipe does not call for nuts, you could add a cup if you like. Toasted and chopped walnuts, pecans, or hazelnuts are excellent choices and you could even add chunks or chips of dark or white chocolate.