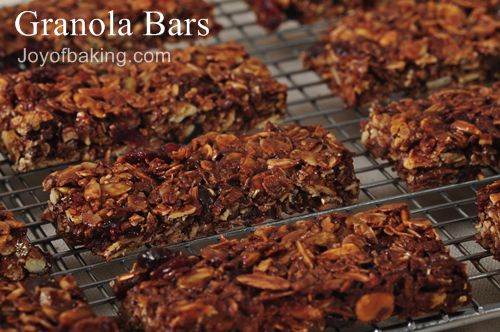 Most of us like to snack and, judging from the huge selection in grocery stores, we like to snack on granola bars. So, why not make our own. Homemade granola bars take about the same amount of time as making homemade granola. The only difference is that instead of spreading the granola mixture onto a baking sheet, it is pressed into a 9 x 13 inch pan. These bars are loaded with oats, dried fruits, seeds, chocolate chips, and nuts that are completely coated in a sweet and sticky mixture of honey, butter, brown sugar, and vanilla. They are baked until set, and the only problem is that, after they come out of the oven, we have to wait for them to cool. These Granola Bars are crisp, yet still chewy. If you like a granola bar that is more crisp, and less chewy, bake the bars a few minutes longer.
Now, we must talk about ingredients. First, the oats. I prefer to use the thicker textured old fashioned rolled oats over the quick cooking type. To the oats we add unsweetened shredded coconut, which is different than the more common 'sweetened' coconut sold in plastic bags or cans in grocery stores. Unsweetened coconut has a more pronounced coconut flavor and a dry (not sticky) texture. It is sold in health food stores or specialty food stores.
Then there is the dried cranberries (or cherries). First, let me say that you can use other dried fruits. Figs, prunes, apricots, and dates are excellent choices. When buying dried fruits, try to buy in bulk form from a grocery store or natural food store that has a high turnover. Not only will the fruit be fresher, but you can see, smell, feel, and often taste the fruit to make sure it is fresh and of high quality. Pre-packaged fruit can also be excellent but it is harder to judge the quality of the fruit through the plastic bag. So be sure to check the expiration date on the bag and look for dried fruit that is plump, moist, and has good color. Never buy fruit that is dried out or moldy.
Once all the oats, fruits, seeds, nuts, chocolate chips, and spices are combined, the final step is to coat all the ingredients with a delicious mixture of butter, sugar, honey, and vanilla extract. These ingredients must first be heated to boiling. Now, honey adds sweetness and a unique flavor to the granola so it is important to use a honey that has a flavor you enjoy. I like to use a mild flavored honey, like clover or orange blossom, so it won't over power the other flavors in the granola bars. Also, honey is very sticky, so before measuring, spray the inside of the measuring cup with a non stick cooking spray or vegetable oil. That way the honey will just slide out of the cup.