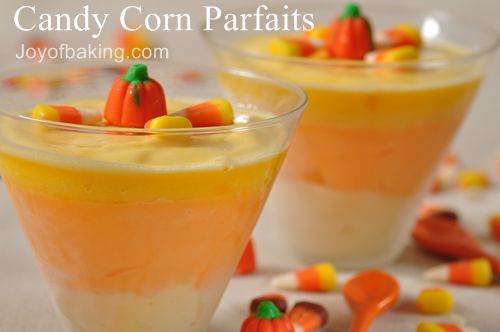 October is the season of fresh apples, pears, corn, and pumpkins. It is also the season of ghosts and goblins and candy corn. Now candy corn is uniquely American, invented over a hundred years ago by George Renninger of the Wunderle Candy Company. This white, orange, and yellow striped confection is shaped to resemble a kernel of corn and 20 million pounds of it are sold every year. With such popularity I decided to honor the candy corn by making Candy Corn Parfaits. These delightful frozen parfaits are made by layering vanilla ice cream, with orange sherbet and lemon sorbet and I can't help but feel they do the original proud. The idea for making this dessert comes from Matthew Mead's book Monster Book of Halloween. This book is absolutely bursting with Halloween ideas, from cooking to decorating.
Children, in particular, enjoy these Candy Corn Parfaits with the combination of vanilla ice cream with orange sherbet and lemon sorbet. Moms can also feel good that they are serving a healthy alternative to all the candy floating around this time of year. These parfaits begin with choosing a tall thin parfait, wine glass or, if for a children's Halloween party, small plastic cups. Then the layering begins. First, vanilla ice cream is softened and then it is piped in an even layer into each glass. The glasses are placed in the freezer so the ice cream can harden and then the same process is repeated with the orange sherbet and lemon sorbet. Each layer is frozen individually so the layers do not mix. You can garnish the parfaits with candy corn, chopped peanuts, colored sprinkles or with a dollop of softly whipped cream.
For those who are unfamiliar with sorbet and sherbets I will explain the difference. Sorbet (pronounced Sor-BAY) is French for sherbet and contains fresh fruit (juices/purees), sugar, water and sometimes lemon/lime juice. It contains no eggs, milk or cream. Sherbets (pronounced SHER-biht), on the other hand, contain milk, cream, and sometimes eggs which gives them a smooth and rich consistency somewhere between an ice cream and a sorbet.