Coconut Macaroons: Preheat your oven to 350 degrees F (180 degrees C) and line two baking sheets with parchment paper.
In a large bowl, whisk the eggs until well beaten. Then whisk in the sugar, salt, and vanilla extract. Finally, stir in the dried coconut, making sure that all the coconut is thoroughly moistened.
Place mounds (about 1 tablespoon) (15 grams) of the batter onto the parchment-lined baking sheet, spacing several inches apart. Bake for about 15 to 18 minutes or until golden brown. Remove from oven and place on a wire rack to cool completely.
Chocolate Coating: Place the chopped chocolate and butter in a heatproof bowl. Place over a saucepan of simmering water and melt. Then dip, or spread the bottoms of each macaroon, with the melted chocolate. Place the macaroons, chocolate side down, on a parchment lined baking sheet. Refrigerate the cookies for about 15-30 minutes, or until the chocolate hardens. Can be covered and stored for several days at room temperature or in the refrigerator.
Makes about 20 to 24 Macaroons.
View comments on this recipe on YouTube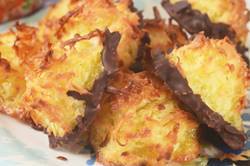 Coconut Macaroons:
2 large eggs (100 grams out of shell), at room temperature
1/2 cup (100 grams) granulated white sugar
1/8 teaspoon salt
1 teaspoon (4 grams) pure vanilla extract
3 cups (210 grams) sweetened dried coconut, shredded or flaked or 3 cups (150 grams) unsweetened dried coconut, shredded or flaked
Chocolate Coating:
4 ounces (115 grams) semi-sweet or bittersweet chocolate, coarsely chopped
1/2 teaspoon butter, coconut oil, or shortening