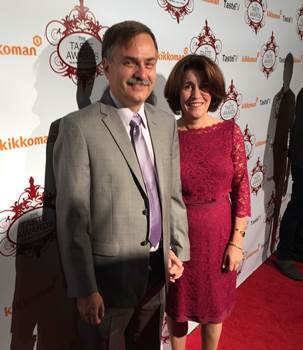 Joyofbaking.com was founded in May of 1997 as a way for me (Stephanie Jaworski) to connect with other people who love to bake. At the time I was a stay-at-home mom baking daily for my family, friends, neighbors, school functions, and any one else who enjoyed a cookie or two. My husband decided I needed an outlet for my passion and so this website began. We started small with just a few recipes and a very simple design. I've been asked many times why I don't have a cookbook and the reason is that, for now, I want to focus all my resources on Joyofbaking.com and the videos on our YouTube channel.
If you are a regular to the site you have probably noticed that my style is quite eclectic. That is because I have lived both in Canada and the United States. Born in Nova Scotia to a British father I was brought up eating both Canadian and British food. My family moved to Winnipeg Manitoba when I was a teenager and that is where I eventually met and married my husband, Rick. From Winnipeg we subsequently moved to Thompson Manitoba, Regina Saskatchewan, Ottawa, and Toronto. In 1988 we were given the opportunity to move to the US, so we packed our bags and headed to Portland Oregon. From there we moved to Indianapolis Indiana, Atlanta Georgia and now we live near the beach on St. Simons Island Georgia and shoot our videos in Atlanta. Through all the moves I have continued to bake and read about baking and have explored the diverse baking interests of each place I've lived. I have no formal training, albeit a week long Patisserie class at the Le Cordon Bleu in London, a course in baking at the Western Culinary Institute in Portland and a number of classes at the San Francisco Baking Institute. Most of my experience and knowledge comes from being in the kitchen all the time and reading, lots and lots of reading. I've lost count of the number of cookbooks I have but I'm sure my library numbers in the thousands. All the recipes on the site are devised, baked, and then written by me. I do not use outside recipe testers or developers as I prefer to test and develop each and every recipe myself in my own kitchen.
While the recipes and writing are done by me, all the beautiful photos and technical aspects of the site are handled by Rick. Rick does all the videography for our videos as well. What would I do without him. Rick has a background in high tech marketing and engineering so he's well equipped to handle these tasks and that frees me to do what I do best, write about baking and prepare for the videos.
In closing, to become a good baker all you need are good ingredients and some time and patience in the kitchen. Practice does eventually lead to excellence so I encourage you to start easy and as your confidence builds you will be amazed at what you can accomplish.
Stephanie Jaworski
Founder - Joyofbaking.com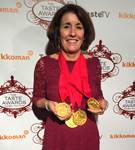 In August 2010 Joyofbaking.com became a part of iFood Media LLC of which Rick Jaworski is the Chief Executive Officer (CEO) and Stephanie Jaworski is the Chief Content Officer (CCO).
In January 2015 Joy of Baking won four Taste Awards for our YouTube Channel, setting the record for the most number of awards in a single Taste Awards event. Awards were for: Best Single Topic Series, Best Home Chef in a Series, Best Instructional Web Series and Best Food Program Web.