Coconut: Preheat oven to 350 degrees F (180 degrees C). Place the dried coconut on a baking sheet and bake for about 5-10 minutes or until lightly browned. Watch carefully and stir the coconut a few times so it bakes evenly. Remove from oven and let cool before using.
Coconut Cream Filling: In a medium-sized saucepan bring the milk (minus 1/4 cup (60 ml)) and the coconut milk just to boiling (bubbles form around the outside edge of saucepan.)
Meanwhile, in a heatproof bowl, whisk the egg yolks with the remaining 1/4 cup (60 ml) milk. In another small bowl whisk the sugar with the cornstarch (corn flour) and salt. Add the sugar mixture to the egg yolks and whisk until smooth. When the milk just starts to boil, remove from heat and, whisking constantly to prevent the eggs from cooking, slowly add the milk to the egg mixture. (If you do get a few pieces of cooked egg, pour through a strainer.) Then pour the mixture into a medium saucepan and cook over medium heat until boiling, whisking constantly. Continue to whisk for another 30 - 60 seconds or just until it becomes thick. (The filling starts out quite thin but will thicken as it cooks. When it comes to a boil it may be a little lumpy. Stir vigorously and the lumps with smooth out.) Remove from heat and immediately whisk in the butter, vanilla extract and rum (if using). Gently stir in 1 cup (240 ml) of the toasted coconut. Pour into the baked and cooled pastry crust, cover with plastic wrap, and refrigerate for 3-4 hours (or overnight) or until firm.
Whipped Cream: Put your mixing bowl and whisk in the freezer for about 15 minutes. Then beat the whipping cream, powdered sugar, and vanilla extract just until stiff peaks form. Spread or pipe the whipped cream over the filling. Garnish with the remaining toasted coconut.
Serves 8 - 10 people. Preparation time 1 hour.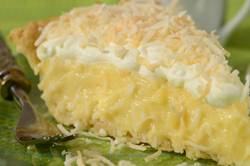 Coconut Cream Pie:
1 - 9 inch (23 cm) Prebaked Pie Crust
Coconut:
1 1/2 cups (360 ml) dried coconut (sweetened or unsweetened, shredded or flaked), divided
Coconut Cream Filling:
1 cup (240 ml) whole milk, divided
1 1/2 cups (360 ml) unsweetened coconut milk
4 large egg yolks
2/3 cup (135 grams) granulated white sugar
1/4 cup (35 grams) cornstarch (corn flour)
1/4 teaspoon salt
2 tablespoons (28 grams) butter, diced
1 teaspoon pure vanilla extract
1 tablespoon rum (optional)
Whipped Cream:
1 cup (240 ml) cold heavy whipping cream (contains 35-40% butterfat)
1 tablespoon confectioners (powdered or icing) sugar, or to taste
1/2 teaspoon pure vanilla extract