Cranberry Upside Down Cake: Preheat oven to 350 degrees F (180 degrees C). Butter a 9 inch (23 cm) round cake pan.
Topping: Place the butter and brown sugar in a small saucepan and stir over medium heat until the butter has melted and the sugar has dissolved. Continue cooking for a few more minutes until the sugar starts to brown (caramelize). Then remove from heat, and pour into your prepared cake pan. Sprinkle evenly with the fresh cranberries.
Cake Batter: In a large bowl, sift or whisk together the flour, baking powder, and salt.
In the bowl of your electric mixer, or with a hand mixer, beat the butter with the sugar until light and fluffy. Scrape down the sides of the bowl and then beat in the vanilla extract. Add the egg yolks and beat until incorporated. Add the flour mixture (in three additions), alternately with the milk (in two additions), ending with the dry ingredients.
In a clean bowl, whisk the egg whites with the cream of tartar just until the whites hold a firm peak. With a large spatula gently fold the beaten egg whites into the cake batter in two additions. Pour the batter into the cake pan, smoothing the top. Bake in preheated oven for 35-40 minutes, or until the top of the cake has browned and it just starts to pull away from the sides of the pan, and a toothpick inserted in the center of the cake comes out clean. Remove from oven and place on a wire rack to cool for about 10-15 minutes. Run a sharp knife around the edge of the pan and then invert the cake onto your serving plate. This cake is best served shortly after baking, while it's still warm. But leftovers can be covered and stored in the refrigerator for a few days. Reheat.
Makes about 8-10 servings.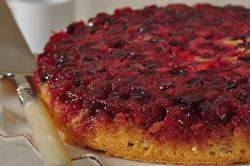 Topping:
5 tablespoons (1/3 cup) (70 grams) unsalted butter
2/3 cup (140 grams) light brown sugar
8 ounces (2 1/4 cups) (227 grams) fresh cranberries
Cake Batter:
1 1/2 cups (195 grams) all purpose flour
2 teaspoons (7 grams) baking powder
1/4 teaspoon salt
1/2 cup (113 grams) unsalted butter, at room temperature
1 cup (200 grams) granulated white sugar
1 teaspoon pure vanilla extract
2 large eggs, separated
1/2 cup (120 ml) milk, room temperature
1/4 teaspoon cream of tartar (or lemon juice)