Everything Cookies: Preheat your oven to 350 degrees F (180 degrees C). Butter, or line two baking sheets with parchment paper.
In the bowl of your electric mixer (or with a hand mixer), beat the butter and sugars until creamy and smooth. Add the eggs, one at a time, beating well after each addition. Beat in the vanilla extract. In a separate bowl, whisk together the flour, baking soda, salt, and rolled oats. Add the flour mixture to the creamed mixture and beat just until incorporated. Stir in the nuts, raisins, and chocolate chips.
For large cookies, use about 3 tablespoons of batter to form the cookies (can use two spoons or an ice cream scoop). Space the cookies about 2 inches (5 cm) apart. Flatten the cookies slightly with your fingers so they are about 1/2 inch (1.25 cm) thick. Bake the cookies for about 12 - 14 minutes or until golden brown around the edges yet still soft in the center. The longer the cookies bake the more crisp in texture they will be. Remove from oven and let the cookies cool a few minutes on the baking sheet before transferring them to a wire rack to finish cooling.
Makes about 30 cookies.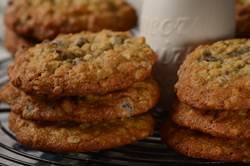 Everything Cookies:
1 cup (225 grams) unsalted butter, at room temperature
1 cup (200 grams) firmly packed light brown sugar
1/2 cup (100 grams) white granulated sugar
3 large eggs, at room temperature
1 teaspoon (4 grams) pure vanilla extract
2 cups (260 grams) all purpose flour
1 teaspoon (4 grams) baking soda
1/2 teaspoon (2 grams) salt
2 cups (175 grams) old-fashioned or quick cooking rolled oats
1 cup (100 grams) walnuts or pecans, coarsely chopped
1 cup (100 grams) raisins, dried cherries and/or dried cranberries
1 cup (175 grams) chocolate chips (semi sweet, bittersweet, milk, and/or white)