Cranberries: In a small saucepan, over medium-high heat, bring the lemon juice, brandy, and dried cranberries just to a boil. Remove from heat and cover. Let cool to room temperature and then drain, reserving the cranberries and the juice separately.
Pound Cake: Preheat your oven to 350 degrees F (180 degrees C). Butter and flour a 10 inch (25 cm) bundt pan. (Note: If using a dark colored pan, reduce the oven temperature to 325 degrees F (165 degrees C).)
In a separate bowl whisk or sift together the flour, baking soda and salt.
In a small bowl rub the lemon zest into the sugar.
In the bowl of your electric stand mixer, fitted with the paddle attachment, (or with a hand mixer) beat the butter and sugar until light and fluffy. Beat in the vanilla extract and eggs, one at a time, beating well after each addition. Scrape down the sides and bottom of your bowl as needed. With the mixer on low speed, add the flour mixture (in three additions) alternately with the sour cream (in two additions), starting and ending with the flour. Stir in the drained cranberries and candied mix peel, if using.
Pour batter into bundt pan and smooth the top. Bake for approximately 60 - 75 minutes or until a toothpick inserted into the middle of the cake comes out with a few moist crumbs. Remove from oven and place on a wire rack. Let cool about 5 minutes and then lightly brush the top of the cake with half of the reserved cranberry liquid. After about 15 more minutes loosen sides of pan with a offset spatula or knife and invert onto a wire rack. Immediately brush the top and sides of the cake with the remaining cranberry liquid. Cool the cake completely before frosting.
Lemon Frosting: In a bowl, combine the confectioners sugar with the lemon juice. (You want the icing to be thicker than a glaze but still thin enough that it will just run down the sides of the cake. If not the right consistency add more lemon juice or powdered sugar, accordingly.) Pour the frosting over the top of the cake, allowing it to drip down the sides. Let the frosting dry before covering and storing. This cake can be frozen. However, if freezing, it is best to freeze the cake without the frosting. Defrost in the refrigerator.
Makes about 15 - 20 servings.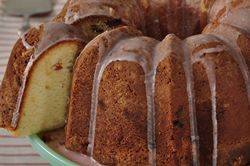 Cranberries:
1/3 cup (80 ml/grams) freshly squeezed lemon juice (about 2-3 large lemons)
2 tablespoons (20 grams) brandy, rum, limoncello, etc. (optional)
1 cup (120 grams) dried cranberries, coarsely chopped
Pound Cake:
3 1/2 cups (455 grams) all-purpose flour
1/2 teaspoon (2 grams) baking soda
1/2 teaspoon (2 grams) salt
2 tablespoons (6 grams) grated lemon zest (outer yellow skin of lemon)
3 cups (600 grams) granulated white sugar
1 cup (225 grams) unsalted butter, at room temperature
6 large eggs (300 grams), at room temperature
1 1/2 teaspoons (6 grams) pure vanilla extract
1 cup (240 ml/grams) sour cream or plain yogurt
1/3 cup (60 grams) candied mix peel (optional)
Lemon Frosting: (optional)
1 cup (120 grams) confectioners' (powdered or icing) sugar, sifted
1 - 2 tablespoons freshly squeezed lemon juice