Peach Galettes: Line two baking sheets with parchment paper.
Take 1/2 pound (225 grams) of puff pastry and place on a lightly floured surface. With a lightly floured rolling pin, roll into a 9 x 7 inch (23 x 18 cm) rectangle. Cut the rectangle into 4 equal pieces. Place the 4 rectangles of puff pastry on one of the baking sheets. Repeat with the second 1/2 pound (225 grams) of puff pastry. Then cover the two baking sheets with plastic wrap and place in the refrigerator to chill.
Frangipane: In the bowl of your electric stand mixer, fitted with the paddle attachment (or with a hand mixer), beat the butter until creamy. Add the sugar and beat until combined. Then beat in the egg and vanilla extract until smooth. Add the ground almonds and flour and beat until it forms a smooth paste. (The Frangipane can be made ahead, covered, and stored in the refrigerator for about three days or it can be frozen for about one month.)
With an offset spatula or knife, spread a thin layer of frangipane (a scant tablespoon) onto each puff pastry, leaving a 1/4 inch (.5 cm) border. Cover and refrigerate the pastries while you preheat your oven.
Preheat oven to 375 degrees F (190 degrees C) and place the oven racks in the upper and lower third of the oven.
Peaches: Cut the peaches in half, remove the stones, and cut into thin slices. Remove the puff pastry from the refrigerator and place about 5 to 6 peach slices on top of each pastry. Sprinkle the peaches with a little sugar.
Bake for about 25 - 30 minutes or until the peaches are tender (when gently pierced with a sharp knife) and the puff pastry is golden brown. Rotate the baking sheets top to bottom and front to back about halfway through baking. Remove from oven and place on a wire rack to cool.
Apricot Glaze: Heat the apricot preserves in a small saucepan over medium heat until liquid (this step can be done in the microwave). Remove from heat and strain the preserves through a fine strainer to remove any fruit lumps. Stir in the Grand Marnier or water. Let cool until it is only slightly warm and then, with a pastry brush, lightly glaze the peaches.
Makes 8 galettes.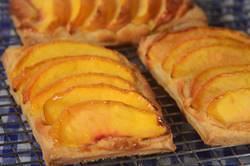 Peach Galettes:
1 pound (450 grams) Blitz Puff Pastry or commercial puff pastry (if frozen, defrost in the refrigerator over night)
Frangipane (Almond Cream):
3 tablespoons (42 grams) unsalted butter, at room temperature
1/4 cup (50 grams) granulated white sugar
1 large (50 grams) egg, at room temperature
1/2 teaspoon (2 grams) pure vanilla extract
1/2 cup (42 grams) ground almonds
1 tablespoon (12 grams) all purpose flour
Peaches:
2 pounds (900 grams) fresh peaches (about 4 large)
1 - 2 tablespoons (12 - 25 grams) granulated white sugar
Apricot Glaze:
1/3 cup (85 grams) apricot preserves
1/2 tablespoon Grand Marnier or water